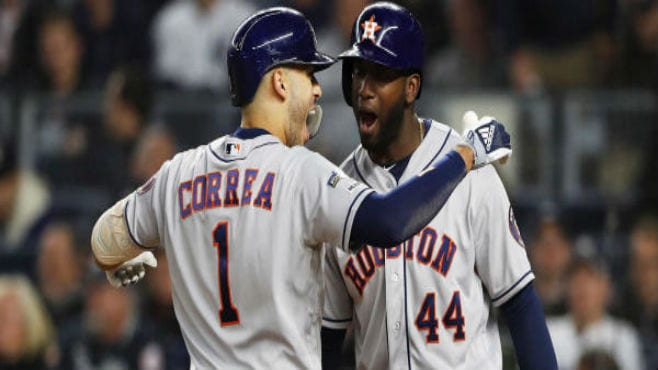 The Houston Astros are now just one win away from punching their ticket to the World Series after an offensive outburst that resulted in an 8-3 win over the New York Yankees on Thursday night.
How It Happened:
Things didn't look great for the Astros right out of the gate when Zack Grienke's night started with three walks, including a bases-loaded walk of Brett Gardner scored Aaron Judge. The tone changed though in the top of the third when George Springer drilled a three-run home run to left-center field, giving Houston a 3-1 lead.
Carlos Correa got his second home run of the ALCS in the top of the sixth with a three-run bomb of his own, resulting in a comfortable 6-1 lead. Gary Sanchez tried to get a rally going in the bottom frame with a two-run shot, but the door was slammed shut after Alex Bregman scored off of a fielding error by Gleyber Torres in the eighth.
Big Number: 4
The Yankees slipped up one time too many with a total of four errors committed. Only one of those errors directly led to a run coming across home plate.
Player of the Game: George Springer and Jose Altuve
There was only one player on the Astros roster that had multiple hits on Thursday night, but the two most important hits came from the bats of George Springer and Carlos Correa with both going yard to give Houston firm control of the lead.
Next Up: Game Five Friday; First Pitch at 7:08 pm