Back In Black/Scarecrow
This weekend, On The Turntable we will rock … 80's style…. The program will start with the 40th anniversary airing of AC/DC's "Back in Black" and will be followed by John Cougar Mellencamp's "Scarecrow"
Back In Black
Back in Black is the seventh studio album by AC/DC. It was released forty years ago, last weekend. It was the band's first album to feature vocalist Brian Johnson, following the death of previous vocalist Bon Scott. The album's all-black cover was designed as a "sign of mourning" for Scott. Back In Black sold and estimated fifty million copies and is considered one of the best selling lps of all time … Side one features one of the best openings of an lp …. Ever!
After Back in Black was released, AC/DC's previous records 'Highway to Hell','If You Want Blood You've Got It', and 'Let There Be Rock' all re-entered the British charts, which made them the first band since The Beatles to have four albums in the British Top 100 simultaneously. The album is featured on many "best of" lists; the album is ranked No. 77 on Rolling Stone's list of "The 500 Greatest Albums of All Time" … it is also featured in the book 1001 Albums You Must Hear Before You Die … Best Ever Albums Dot Com considers Back in Black the 3rd best lp of 1980 and the 17th best of the 1980's … Digital Dream Door Dot Com the album number one on it's top 100 list of 1980.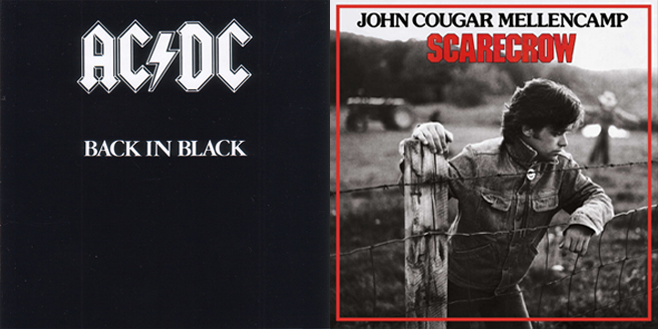 Scarecrow
Scarecrow is the eighth studio album by John Mellencamp, released this very month in 1985. The album peaked at #2 on the U.S. chart behind the Miami Vice Soundtrack. Scarecrow contained three top 10 hits … 'R.O.C.K. In The USA', 'Lonely Ol' Night' and 'Small Town' … all three cracked the top ten … this was the lp where Mellencamp perfected his heartland rock as a writer.
During the program this weekend, we will feature my original copy of this lp …. Thirty five years … sometimes that is just hard to believe …. I have always enjoyed this album … this and the subsequent 'Lonesome Jubilee' are, my opinion, two of his best … Rolling Stone Magazine ranked Scarecrow at #95 on its list of the 100 greatest albums of the 1980's … Best Ever Albums Dot Com considers Scarecrow the 28th best of 1985 and the 327th best of the 1980's …. Digital Dream Door Dot Com ranked the lp 18th on its top 100 of 1985 list …. side two features one of my favorite Mellencamp tunes … Rumble Seat.