Hold Out/Bebe Le Strange
This week, 'On The Turntable' will feature two lps that are celebrating 40 years since their release … Can you believe it has been 40 years since the release of 'Hold Out' from Jackson Browne  and Heart's "Be Be Le Strange?"
Hold Out
Hold Out is the sixth album by  Jackson Browne, released in June 1980.  The album delivered two top forty hit singles for Browne … 'Boulevard' which reached the top 20 and 'That Girl Could Sing' which peaked just inside the top 40.  I love both of these songs … I do wish there were more of them on this lp. I bought the lp for 'Boulevard' and have owned it since 1980.
Critically, the album has not been as well received as other Browne recordings, however; it remains his only album to reach #1 on the Billboard 200.  Best Ever Albums Dot Com considers Hold Out the 420th best lp of 1980 … Digital Dream Door Dot Com has the lp ranked at #28 on it's top 100 of 1980 list … How's that for a difference of opinion?
Notable Tracks – 'Disco Apocalypse' 'Boulevard' 'That Girl Could Sing'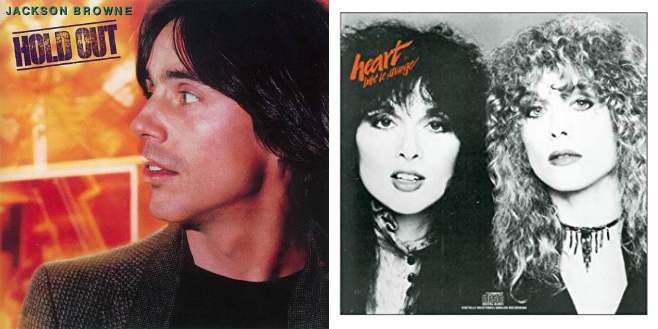 Bebe Le Strange
Bebe Le Strange is the fifth studio album from Heart … It was released on Valentine's Day 1980 and was the first album without founding member Roger Fisher on lead guitar … and, many feel that Roger's guitar playing and style were greatly missed on this lp …Two singles were released from the lp, the title cut and 'Even It Up'
Heart's entrance into the 1980s, was a rough one. Although Bebe Le Strange would peak at #5 on the Billboard 200, and become certified gold; the  album did not sell as well as previous releases.
Notable Tracks – 'Bebe Le Strange' 'Even It Up'