It was October 10, 1972 – I was 19 years old, living in Detroit.  At that time, Detroit was one of the biggest Rock N' Roll cities in America.  Everyone wanted to and played the Detroit Venues … In the 60's it was The Cinderella Ballroom, The Grande Ballroom where bands like The Who played their first American show… and may other followed.
In the 70's it was  Cobo Arena, Masonic Temple, Ford Auditorium, The Michigan Palace and a few others …
On this night, Yes were playing Cobo Arena –  It was the Closer To The Edge Tour … the previous lp, Roundabout, and the tour that followed that album was their 'coming out' – in that particular show Yes opened for Jethro Tull … and that was a pretty good show.  Close To The Edge and the tour that followed made them Superstars.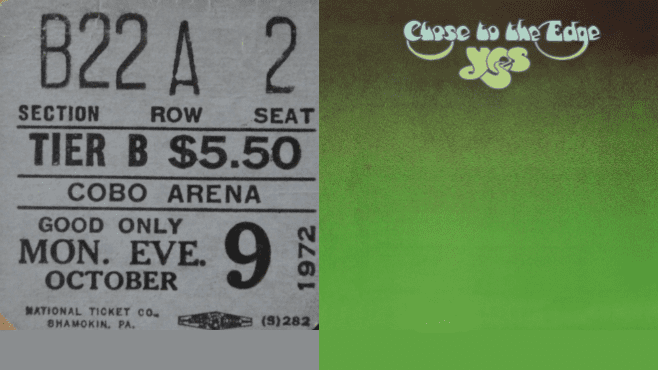 This particular show was one of the greatest that I have ever witnessed.  Now, $5.50 was not necessarily cheap in 1972, but looking at this stub today makes this seem like one of the best values in rock history.
A little band that soon became a household word opened for Yes – Eagles.  Yep.  Eagles were promoting their debut lp … opening in Detroit made sense.  Glenn Fry was from  Royal Oak, a suburb of Detroit and learned his craft while playing with Bob Seger and others before moving to L.A.
I can still clearly remember Eagles doing "Witchy Woman" – They were really good.
Then game Yes.  And this bad was on this night.  The entire lp of Close To The Edge was played with perfection.  Alan White, Chris Squire and Steve Howe were 'right on' with  every note.  And, Jon Anderson's vocals were superb.  I remembering this show sounding 'just like the record.'  Isn't that was always looked for in a concert?
What would a show like this cost us today?