Love It To Death/Killer
It's Halloween Weekend and as we normally do during this holiday weekend, 'On The Turntable' features two albums that fit the mood.  We could not think of two LPs that do that more perfectly that the two we have this weekend … We will start with "Love It To Death" and finish with "Killer" from Alice Cooper.  Both albums were released in 1971 and will celebrate 50 year anniversaries next year.  I would bet we could hear from these two discs again … soon
Love It To Death
Love It to Death was the third studio album by Alice Cooper, released in March '71.  The album is seen as one of the foundational albums for the heavy metal sound …  It was the band's first commercially successful album;  best-known for the track, "I'm Eighteen"  … it was released as a single to test the band's commercial viability before the album was recorded.  It passed the test with flying colors (Mostly Orange and Black)
Though "I'm Eighteen" was the only hit from the album, growing up in Detroit exposed the entire album to those of us listening to FM radio at the time … The songs "Is It My Body" and "The Ballad of Dwight Fry" garnered a lot of airplay on Detroit's "Underground Radio" scene … both songs are featured on side two … Best Ever Albums Dot Com considers 'Love It To Death' the 61st best of 1971 and the 529th best of the 1970's.  Digital Dream Door Dot Com ranks the album 16th on its Top 100 for the year.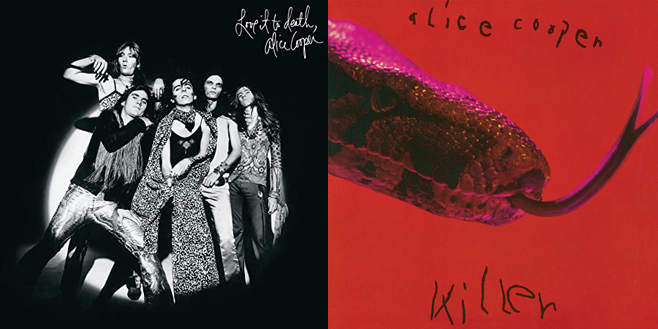 Killer
Killer is the fourth studio album by the Alice Cooper band, released in November '71.  'Love It To Death' set the stage for Killer … The album reached number 21 on the Billboard 200 album chart, and delivered two Billboard Hot 100 singles ….  "Under My Wheels" and "Be My Lover."  I actually purchased this lp before 'Love It To Death' and wore out my original copy..  this weekend you will enjoy a reissue on 180 gram vinyl …
Cooper has claimed that the song Desperado is about his friend Jim Morrison who died the year the album was released … The song Dead Babies, which plays on side two, received much criticism following its release even though the song actually carries an anti-child abuse message … Best Ever Albums Dot Com considers Killer to be the 46th best lp of 1971 and the 394th best of the decade … Digital Dream Door Dot Com ranked the lp 28th on its Top 100 list for the year…
Catch 'On The Turntable' this weekend on 97.7 FM and 1330AM or listen on line www.kvol1330.com or on The Rewind App. On The Turntable airs Saturday at 6pm and again on Sunday at 7pm.