Powerful People/Slow Dancer
Scheduling meaningful, poignant albums for On The Turntable week in and week out is sometimes very challenging and we, a times have to dig very deep into the vinyl vault. And, that is exactly what we had to do to create this weekend's program . We dig deeply into the vinyl vault to bring you two albums from 1974. These are not well known, but very well produced precursors to the artist's breakout albums … We will start with "Powerful People" from Gino Vannelli and follow that with "Slow Dancer" from Boz Scaggs … tune in this weekend and enjoy.
"Powerful People"
Powerful People is the title of both the second studio album of Canadian singer Gino Vannelli, and the sixth track on this album. The album, released in 1974, was produced by Gino and his brother Joe Vannelli. Herb Alpert, who produced Vannelli's first album, is credited as associate producer.  The funky "People Gotta Move" is the first cut on the lp and was Vannelli's first hit in the United States reaching #22 on the Billboard Hot 100.  As you may know, I grew up and got into the business in Detroit …This album was a much bigger hit in Detroit than it was nationally .. I beleive it may have been the Canadian Connection.
Side two starts with the title cut … This is an excellent vocal performance from Vannelli … the last song "Poor Happy Jimmy" is a tribute to Jim Croce who died a year earlier …Vannelli would eventually make it on the national stage with 1978's "Brother To Brother" and the top five hit "I Just Wanna Stop" … Best Ever Albums Dot Com considers Powerful People as the 906th  best of 1974.
Notable Tracks – "People Gotta Move" "Powerful People" "Poor Happy Jimmy"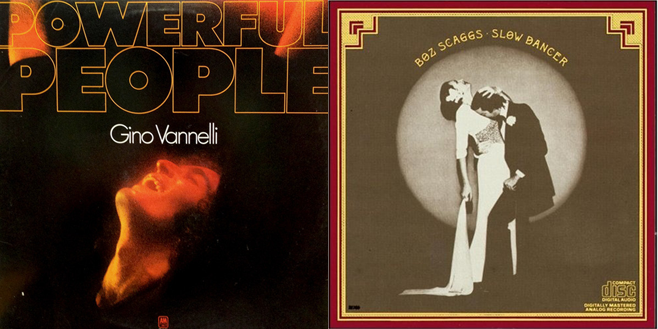 "Slow Dancer"
This album is an unknown gem …. Slow Dancer is the sixth album by Boz Scaggs, it was released in 1974 and produced by former Motowner Johnny Bristol.  Bristol wrote or co-wrote four of the songs on the album …This was the precursor to "Silk Degrees", and if there had not been a "Slow Dancer", there would not have been a "Silk Degrees" … The album starts with the catchy "You Make It So Hard (To Say No)."
Although "Silk Degrees" is considered Scagg's best album, Slow Dancer features just as many melodic, catchy tunes … Scaggs does not play a single instrument on this album … that was a first by him and was orchestrated by Johnny Bristol … It has only happen two more times in the past 46 years … on the lps "Other Roads" in 1988 and "But Beautiful" in 2013 … Best Ever Albums Dot Com considers "Slow Dancer" to be the 450th best lp of 1974 … Digital Dream Door Dot Com gives the album more love with an 81st ranking on its top 100 of the year.
Notable Tracks – "You Make It So Hard (To Say No)" "Slow Dancer" "Hercules"
Catch 'On The Turntable' Saturday evenings at 6pm and Sunday mornings at 7am. Listen over the air on 97.7FM and 1330AM … on line at www.kvol1330.com and on The Rewind App.