Eagles Live
This weekend, On The Turntable pays homage to "Eagles Live," released November 7, 1980. All four sides will be aired in their entirety, without interruption.
"Eagles Live" is the first live album from the ban Eagles … The album is a balanced look at the band's history … Songs from each Eagles studio album except one, On the Border, are included, as well as two Joe Walsh solo tracks … On The Border is my favorite Eagles lp … if frustrates me how much the lp is ignored by so many … in my opinion it is their best guitar lp.
The lp is also considered by some critics as the most over dubbed live album of all time … the band was already in the process of breaking up when the album was released … Tapes were sent back and forth via Fed Ex to complete the editing process … The lp is mostly made from performances in Santa Monica and Los Angeles California, recorded during two different tours … The Hotel California and Long Run Tours … I was fortunate to see them both ….Five lead singers are featured in the 14 vocal songs on the album …. The band had different line-ups in 1976 and 1980; Timothy B. Schmit joined in 1978, replacing original bassist Randy Meisner.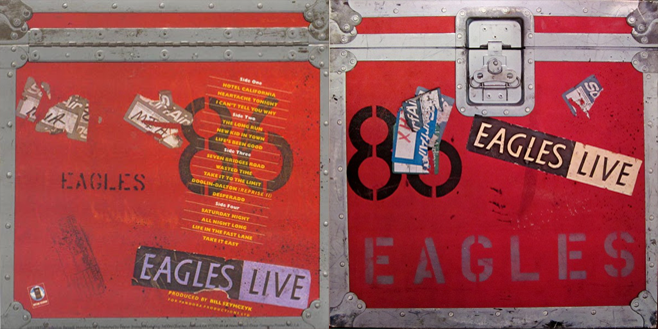 The lp delivered one single … Seven Bridges Road …which opens side three … Best Ever Albums Dot Com considers Eagles Live the 15th best lp of 1980 and Digital Dream Door Dot Com ranked the double lp #40 in their top 100 of the year.
Original pressings of this album had text engraved in the run-out grooves on each side, as had been the band's tradition since their 1975 album One of These Nights –
Side one read as …"Is it illegal to yell "Movie" in a firehouse?" Side two read …. "Hello, Federal? … Ship it!" Side three read … "Not Tonight, thanks …" Side four read …. "I've gotta rest up for my monster …."
Don't miss "Eagles Live" Saturday at 6 pm and rewound Sunday at 7 am. Listen on-the-air, on line at www.kvol1330.com and on The Rewind App.