Young Americans/Katy Lied
This week On The Turntable will feature two eclectic lps that were both products of career and band member changes … 'Young Americans' was David Bowie's transformation from 'Ziggy' to 'The White Duke' and 'Katy Lied' from Steely Dan was the first after the break-up of the original five member band ….
Young Americans
Young Americans is the ninth studio album by David Bowie, released in March 1975 on RCA Records. The album marked a departure from the glam rock style of Bowie's previous albums, showcasing his interest in soul and R&B music.  This is the album or transition where he abandoned the Ziggy persona and became The White Duke.  The initial recording sessions took place in Philadelphia with a variety of musicians, including guitarist Carlos Alomar, John Lennon and singer Luther Vandross.  
Young Americans was panned by the critics during its release, however the lp delivered Bowie his first US number one single in Fame, co written by John Lennon … Lennon also contributes on the cover of The Beatles' Across The Universe.  The album also featured Fascination, a song that Bowie never performed live … Best Ever Albums Dot Com considers Young Americans as the 16th best lp of 1975 and the 208th best of the 1970's … Digital Dream Door Dot Com ranks the lp at 27 on its top 100 list of 1975. The album is also featured in the book 1001 Albums You Must Hear Before You Die.
Notable Tracks – 'Young Americans' 'Fame' 'Fascination' 'Somebody Up There Likes Me'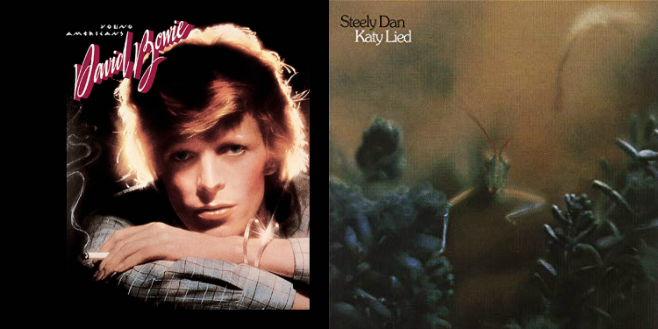 Katy Lied
Katy Lied is the fourth studio album by Steely Dan .   The album was the first after the break-up of the original five-piece Steely Dan; most of the original members had left during a rift over touring and recording schedules.   Which is an interesting story … in 1974 I had purchased tickets to see Steely Dan at Ford Auditorium in Detroit to only have the concert cancelled over this particular rift … It was very upsetting and I was unable to enjoy this band live until 2005 for their appearance at The Woodlands in Houston … This album marks the first appearance of singer Michael McDonald on a Steely Dan album.  He sings on Bad Sneakers and will add voice work for the band until 1980.
Katy Lied is not considered as highly regarded as Pretzel Logic from 1974 or Aja … however, this album features many of my favorite Steely Dan songs … this is a highly underrated lp in my opinion … Black Friday, Bad Sneakers, Daddy Don't Live In The New York City No More (One of my favorite titles) and Everyone's Gone To The Movies are incredible tunes … the album features a list of who's who as guest appearances go … the aforementioned Michael McDonald, Rick Derringer, Larry Carlton, Hugh McKraken and Wilton Felder … Best Ever Albums Dot Com considers Katy Lied the 19th best lp of 1975 and the 261st best of the 1970's.
Notable Tracks – 'Black Friday' 'Bad Sneakers' 'Daddy Don't Live In The New York City No More' 'Everyone's Gone To The Movies'