All Things Must Pass
George Harrison's masterpiece "All Things Must Pass" was released on November 27, 1970, and this coming week will celebrate 50 years since it's release. On The Turntable will feature a 50th anniversary airing.
All Things Must Pass is the third studio album by George Harrison. Released as a triple album this very weekend in 1970, it was Harrison's first solo work after the break-up of the Beatles in April that year. The album included the singles "My Sweet Lord, "What Is Life" and "Isn't It A Pity." One of my favorite Harrison tunes is "Wah Wah" which is included here on side one
Undoubtedly … All Things Must Pass is Harrison's best solo effort … due mostly to the supporting cast that he surrounded himself with … Eric Clapton, Gary Wright, Billy Preston, Klaus Voorman, Delaney & Bonnie and Ringo Starr, just to name a few … the song selections were drawn from his backlog of material from the last Beatles era … and it works …Side two begins with the top ten single … What Is Life …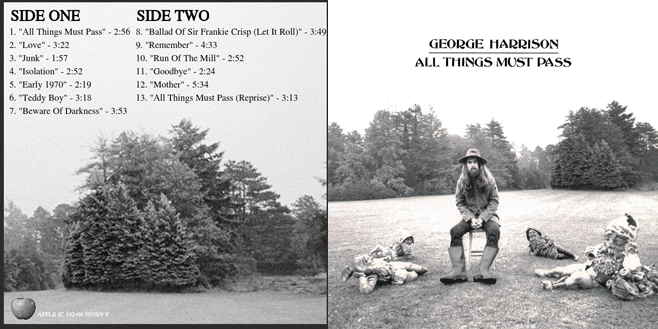 All Things Must Pass received critical and commercial success and spent long periods on the top of many album charts …It also has received recognition on 'best of' lists … All Things Must Pass was ranked 79th on The Times' "The 100 Best Albums of All Time" in 1993, while Rolling Stone placed it 433rd on the magazine's "500 Greatest Albums of All Time". The album was inducted into the Grammy Hall of Fame in 2014 …. You will also find a listing in the book "1001 Albums You Must Hear Before You Die."
All Things Must Pass finally gave George Harrison the recognition as a major artist that he did not receive in the shadows of Paul McCartney and John Lennon … Best Ever Albums Dot Com considers All Things Must Pass as the fourth best lp of 1970 and the 34th best of the decade … Digital Dream Door Dot Com ranked the album 9th on its top 100  list for the year … due to time restraints, we will not air the Apple Jam disc during this program …
Notable Tracks – "Wah-Wah" "What Is Life" "My Sweet Lord" "Apple Scruffs"
You can catch all four sides of "All Things Must Pass' in their entirety, each uninterrupted this Saturday at 6pm and Sunday at 7am. On The Turntable can we heard over-the-air on 97. FM and 1330 AM, on line @ www.kvol1330.com and streamed on the KVOL APP.