The Rod Stewart Album/Rock 'n' Roll
This weekend, 'On The Turntable' will feature two lps from the early 70's that I believe should be a part of any vinyl lover's collection… The program starts with the solo debut from Rod Stewart .. The Rod Stewart Album … and will conclude with John Lennon's covers lp … Rock n Roll …
The Rod Steward Album
The Rod Stewart Album was released in January 1969 in the US and in Britain in February 1970 as "An Old Raincoat Won't Ever Let You Down." It is the debut solo album from Rod Stewart … An Old Raincoat is the original title but was changed in the US because it was considered to be too British … unlike previous British albums released later in the US, the two releases have the same song order … Many of my favorite Rod Stewart songs are on this lp, including his cover of The Stones' "Street Fighting Man"
The album did not fare as well as "Gasoline Alley" that was released just six months later … the lp peaked at 139 on the Billboard 200, despite the positive reviews that it received from publications like Fusion, Rolling Stone and others … Rod has always done an incredible job of covering other artists throughout his career, including his time with The Jeff Beck Group through his American Songbook Series of releases … Best Ever Albums Dot Com considers the album as the 246th best of 1970 .. I don't think I agree with that position, however, 1970 was a pretty competitive year for rock and pop releases.
Notable Tracks – 'Street Fighting Man' 'Handbags and Gladrags' 'Man of Constant Sorrow'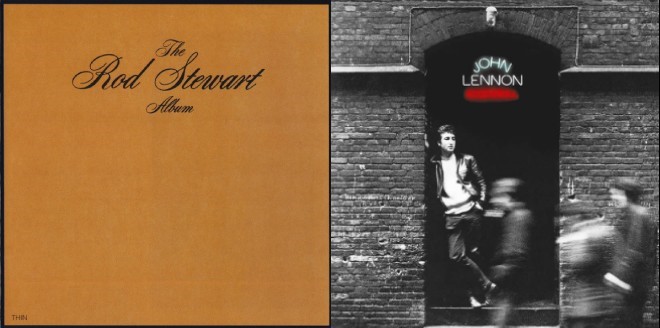 Rock 'n' Roll
Like Rod Stewart …  John Lennon was an excellent interpreter of other people's songs … beginning in his early days with The Beatles right on through, this, his sixth studio album … Rock 'n' Roll is a cover lp of late 50's and early 60's songs … The album was problematic to complete and took over a year to finish … Lennon would not release another album for five years …
The album was released this very weekend in 1975 nd received mixed reviews … though many felt the covers were well done given the fact that Lennon had nothing to prove or any reason to try … We all have those moments when we are not sure what we want to listen to … I find myself putting this album on the turntable, often, during those times of indecision.
Notable Tracks – 'Stand By Me' 'Ain't That A Shame' 'Be-Bop-A-Lula' 'Ya-Ya'