Daryl Hall & John Oates – Bigger Than The Both of Us Tour – Masonic Temple – Detroit, MI – November 9-10, 1976
It was the year of our country's bi-centennial … I was 23 years old … just one year before I would enter Broadcasting School at Specs Howard in Southfield, MI.  I was a huge Hall & Oates Fan and had been since 1973 when Abandoned Luncheonette was released … After that album I scarfed up every Hall & Oats disk that I could find … I could not wait for this tour  … I had just seen them six months earlier when they played The Royal Oak Theater for the "Silver Album Tour" …
They were doing two shows at Masonic Auditorium in Detroit … This is a fabulous venue for a concert … I first saw Bruce Springsteen, Todd Rundgren, Roxy Music and many others at Masonic… "The Masonic", as locals would call it, is the largest building of it's kind in the world!  It houses Masonic Auditorium … A theater setting with a capacity of 4,650 … There truly isn't a bad seat in the house… and the first night, I had 3rd row seats!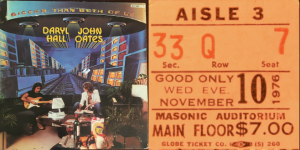 Bigger Than The Both of Us wasn't their biggest lp – However, it delivered their biggest hit with 'Rich Girl' – the song that catapulted the duo onto the Pop Music Scene, later making them the biggest selling duo in America!
Both shows were fantastic.  Daryl Hall & John Oates are true performers and their backing bands were always very tight.   The duo gets a bad rap about being too pop, if you would like to get a sample of how they can rock –  Check out their second lp – War Babies – It was produced by Todd Rundgren … a little known gem that has been in my collection since 1973.
Two shows – Two nights – $14.  Does it get any better than that?