diana/TP
This week #OnTheTurntable we will feature two R&B lps celebrating 40 years since their release – each album with a somewhat abbreviated title because there is no mistaking who the artist is. When you say 'diana', Diana Ross automatically comes to mind. And, when you say 'TP' you are unmistakably referring to Teddy Pendergrass.
diana
"diana" is the tenth studio album by Diana Ross, released on May 22, 1980 on Motown Records. The album is the biggest-selling studio album of Ross's career, selling nine million copies worldwide and spawning three international hit singles, including the US and International number 1 hit "Upside Down" which was not released as a single until the album was nearing the top ten, four weeks after its release. The disco revolution had steamrolled most of Diana's Motown compatriots, however teaming up with Chic's Nile Rogers and Bernard Edwards created what was considered a comeback lp for the queen of Motown. Best Ever Albums Dot Com considers diana as the 88th best lp of 1980 and Digital Dream Door Dot Com considers the album the 9th best … quite a contrast in opinions. But, no matter who's opinion, given the time when this lp was delivered and the sales success of the lp, it was undoubtedly a major comeback.
Notable Tracks – 'Upside Down' 'I'm Coming Out' 'My Old Piano'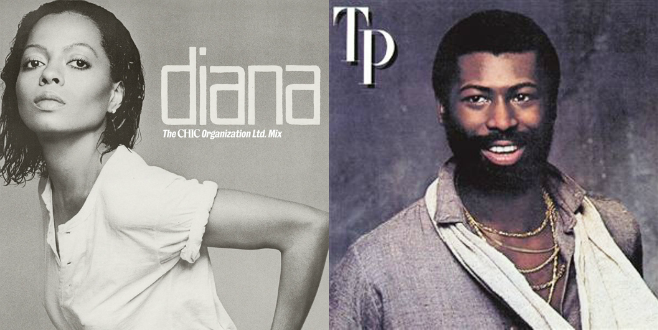 TP
TP is the fourth album by former Bluenote and R&B singer Teddy Pendergrass. The album reached No. 14 on the US pop albums chart and No. 3 on the US R&B albums chart. It spawned the top ten singles, "Can't We Try", which was also featured in the soundtrack to the film Roadie, and "Love T.K.O.".  Pendergrass was at the peak of his prosperous music career at the time of TP's release.  This classic R&B masterpiece is Teddy's only album while at Philadelphia International Records without any input from label founders Gamble and Huff …  Digital Dream Door Dot Come ranks TP at 74th on its list of the top 100 of 1980, and Best Ever Albums Dot Com considers TP as the 860th of the year … I beginning to believe that Best Ever Albums Dot Com seems to poorly rank R&B albums. There is not a Teddy Pendergrass lp that I don't like, and Love T.K.O is one of my favorite ballads from any artist.
Notable Tracks – 'Love T.K.O.' 'Can't We Try' 'Take Me In Your Arms Tonight'