Hey Jude/First Step
It was 50 years ago when Apple records released the compilation lp 'Hey Jude' – On The Turntable will feature this Beatles classic this weekend along with what would become the debut lp from Faces ….
Hey Jude
Hey Jude … (original title, The Beatles Again) … is a 1970 collection of non-album singles and B-sides by the Beatles. Until the release of 1967-1970, or The Blue Album as it is known, it was the only way to find many of these songs on an lp and in stereo … The songs "Hey Jude" "Rain", "Lady Madonna" and "Revolution" were first mixed for stereo specifically for this album.
Hey Jude appeared in the US just two months prior to the official breakup of The Beatles … There have been many lps that followed Hey Jude over the years … Like the Red and The Blue Albums and Past Masters, that offer a more in depth selection of Beatles singles … However, I find Hey Jude showcasing the depth of their catalog by using 'Rain' and 'Paperback Writer' from 1966 and 'I Should Have Known Better' and 'Can't Buy Me Love' from 1964 with the individual member songs from 68 and 69.
Notable Tracks – 'Hey Jude' 'Revolution' 'Don't Let Me Down' 'Paperback Writer'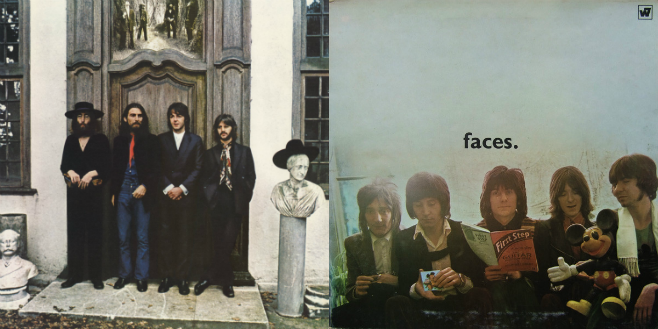 First Step
First Step is the first album by the British group Small Faces, released in early 1970. It was released shortly after the formation of Faces, featuring Rod Stewart, Ronnie Lane, Kenny Jones and Ronnie Wood … the lp was only released as a Small Faces title in the US.
The album was a critical and commercial disappointment … The lp only charted no higher than 119 on the Billboard 200 … Best Ever Albums Dot Com considers First Step to be the 319th best lp of 1970 … All that being said .. I have always enjoyed this lp. I have always been drawn to the Faces 'boys next door', 'garage band' image and sloppy care-fee playing style … Three Button Hand Me Down and Flying are Faces songs that staples for me.
Notable Tracks – 'Three Button Hand Me Down' 'Flying' 'Around The Plynth'