Eric Clapton/Mongrel
This weekend, On The Turntable will, again, feature two albums celebrating 50 years since their release. The program will start with Eric Clapton's eponymous solo debut and will follow with Bob Seger's "Mongrel." That fifty years sure passed quickly …
Eric Clapton
Eric Clapton is the debut solo studio album by Eric Clapton, released this very month in 1970 under Atco and Polydor Records. This is one of my favorite lps … I have owned this on the Polydor label since 1971 … Following a tour with Delaney & Bonny – Eric gathered a group of the backing members of the band and created an lp for the ages …. Members included Leon Russell, Bonnie & Delaney Bramlett, who co-wrote many of the songs with Clapton, Rita Coolidge, Stephen Stills and Bobby Whitlock … Side one, includes what is, most likely, Clapton's most recognized song … After Midnight.
Eric Clapton, the album, peaked at #13 on the Billboard 200 in 1970 …. For me, there is not a bad song on the album … and it closes out with Eric's best known guitar solo … Let It Rain … in fact, it is the only song on the record with an extended guitar solo … Best Ever Albums Dot Com considers Eric Clapton as the 156th best lp of 1970 …. I found this unbelievable …
Notable Tracks – "After Midnight" "Let It Rain" "Blues Power" "Lonesome And A Long Way From Home"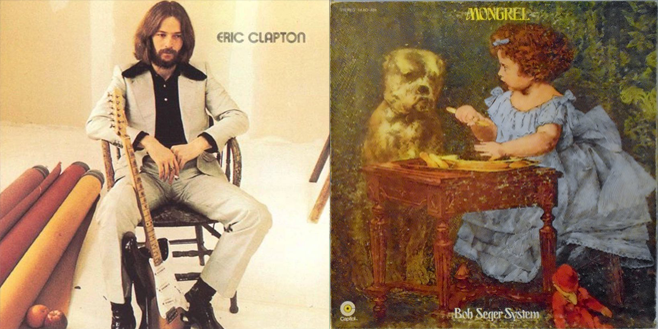 Mongrel
Unless you are from the upper Mid West, this is an lp that you are not familiar with …. Mongrel is the third studio album from The Bob Seger System …. It followed a second lp that totally bombed …. Most artists would fold after such an event … but not Bob Seger…. It took him almost twenty years to achieve national notoriety … At the time of its release, Mongrel was considered his best work.
During its four week run on the Billboard 200, Mongrel did not rise any higher than 171 … Again, this was very much a regional record and you could be hearing this for the very first time…. What makes this album unique is – it was released in 1970 and very much, had the feel of one of those 1965 garage bands rock records, especially the song Lucifer, which is one of my favorites of all Bob Seger songs. It wouldn't be until 1976 that Bob delivered a top ten lp with Night Moves…
Notable Tracks – "Lucifer" "River Deep, Mountain High" "Mongrel Too"