Morrison Hotel/Cuts Like A Knife
February 9th will mark 50 years since the release of what would become, of sorts, a comeback album for The Doors … and this very weekend in 1983 Bryan Adams released what was to become one of his finest lps, 'Cuts Like A Knife' – both are featured this weekend …. On The Turntable …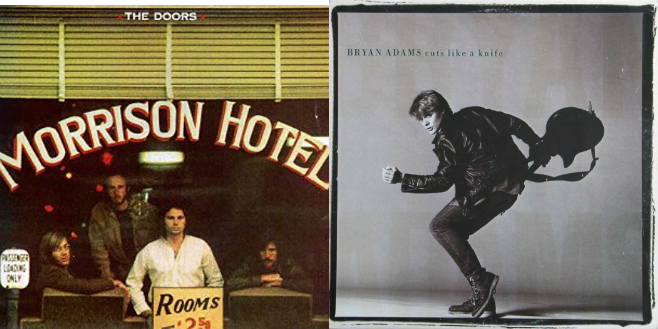 Morrison Hotel
Morrison Hotel is the fifth studio album by the Doors, released February 9, 1970. Morrison Hotel is The Doors return to crunching, straightforward rock and roll following the use of brass and string arrangements on their previous album, The Soft Parade.  The album is divided into two separately titled sides; "Hard Rock Cafe" and "Morrison Hotel".  This lp is seen as a comeback by The Doors reaching No. 4 on the Billboard album chart in March; it also became the band's highest-charting studio album in the United Kingdom, where it peaked at No. 12. This weekend On The The Turntable we will play Morrison Hotel on a 180 gram virgin vinyl lp that was released with the Doors Box Set in 2008.  This album was ranked as the 22nd best of 1970 by Best Ever Albums Dot Com, and the 132nd best of the 1970's … Digital Dream Door Dot com considers Morrison Hotel as the 32nd best of 1970.  It is also featured in the book 1001 Albums You Must Hear Before You Die … I cannot help but think this album could have been much, much more … During this period 'defacto' black-listing occurred, due to Jim Morrison's on stage shenanigans  in Detroit and Miami, leaving their touring schedule mostly to the Northeast and West Coast … It would be hard to believe that this did not cost them sales … This lp was a high school favorite of mine … and still played with regularity in my study.
Notable Tracks – 'Roadhouse Blues' Maggie McGill' 'Peace Frog' 'The Spy'
Cuts Like A Knife
Cuts Like A Knife is the third studio album from Canadian Bryan Adams … The album was released this very weekend in 1983  … three singles were released from the lp … 'This Time', 'Straight From The Heart' and the title cut. This lp was a huge commercial hit in the US and Canada … however it performed poorly in other countries … it is regarded as one of Adams' finest albums … it is ranked as one of the greatest Canadian albums of all time … Best Ever Albums Dot Com considers Cut Like A Knife to be the 124th best album of 1983. This is an album that has been in my collection since its release, though I do not spend that much time with it as others.
Notable Tracks – 'This Time' 'Straight From The Heart' 'Cuts Like A Knife' 'I'm Ready'