Layla and Other Assorted Love Songs
This weekend, On The Turntable celebrates the 50th anniversary of "Layla & Other Assorted Love Songs" from the one-off 'Derek & The Dominos' …  we will bring you all four sides, in their entirety – uninterrupted…
Layla and Other Assorted Love Songs is the sole studio album by the English–American blues rock band Derek and the Dominos, released this very month in 1970. It is best known for the title track, and is often considered Eric Clapton's greatest musical achievement. Other band members include Bobby Whitlock on keyboards and vocals, Jim Gordon on drums, Carl Radle on bass and, Duane Allman played lead and slide guitar on 11 of the 14 songs. Side one features one of my all time favorite Eric Clapton recordings … Bell Bottom Blues…
Here is an oddity … The album was a bust when it was released … it did not chart in England … yet, in 2000 the LP was inducted into the Grammy Hall of Fame … Side two features another Clapton favorite of mine … Anyday.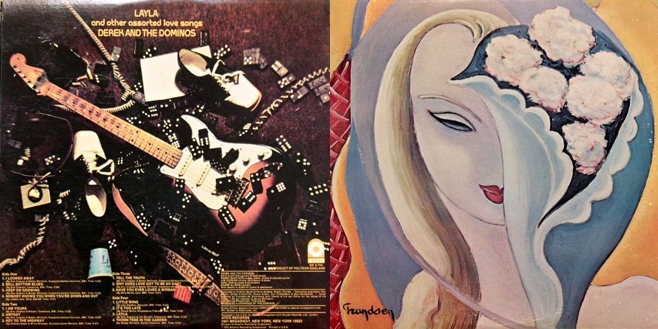 Eric Clapton and Bobby Whitlock collaborated on six of the fourteen tracks on the original release … and side three features a good one … "Why Does Have To Be So Bad …" this could have also been written about his unrequited love for Patti Harrison…
Side four features the title track and the band's slowed down cover of Jimi Hendrix's 'Little Wing"…. Best Ever Albums Dot Com considers "Layla" to be the 12th best album of 1970 and the 56th best of the decade … quite lofty for an lp that only charted at 16 on the Billboard 200 that year … Digital Dream Door Dot Com ranked the album 10th on its Top 100 for the year. The album is also listed in the book – 1001 Albums You Must Hear Before You Die.
Catch 'Layla & Other Assorted Love Songs' this Saturday at 6pm on 97.7FM and 1330AM … also listen on line www.kvol1330.com or on The Rewind App. On The Turntable is also re-aired Sunday mornings at 7am.