Pretty In Pink/Dirty Dancing: The Original Motion Picture Soundtrack
This coming weekend, 97.7 The Rewind will feature a 'Let's Go To The Movies Weekend'! On The Turntable will cue up two of my favorite soundtrack LPs as part of the celebration… The program will begin with the 40th anniversary airing of "Pretty In Pink" and follow that with the "Pulp Fiction" soundtrack.
Pretty In Pink
In a decade that was full of awesome, best-selling soundtracks … Pretty in Pink is near the top of the list … The John Hughes directed film is supported by a soundtrack of mostly new wave music and is pretty much how many of us remember the 80's … high school movies and cool music …. The album begins with Orchestral Maneuvers in the Dark's (shortened to OMD) "If You Leave" a Top Five single on the Billboard 100.
The Pretty in Pink soundtrack included many of the 80's new wave stars – Suzanne Vega, The Smiths and The Psychedelic Furs. The film also includes Otis Redding's "Try a Little Tenderness", to which Duckie lip-synchs in the film … if you have not seen this skit, Google it. He did a fantastic job. There are some really good performances in this film, particularly by Molly Ringwald, a young Jon Cryer and Annie Potts … The soundtrack is found on many best of sound track lists … Pitchfork ranks the album 23rd on its Top 100 Soundtracks List and Rolling Stones ranks Pretty in Pink 11th on it Top 25.
Notable Tracks – 'Pretty In Pink' 'If You Leave' 'Left Of Center'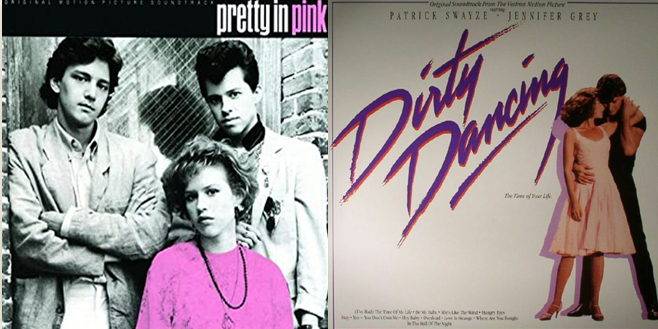 Dirty Dancing: The Original Motion Picture Soundtrack
Dirty Dancing: The Original Motion Picture soundtrack is an anomaly … the album rarely makes any 'best of soundtrack lists', however, the album has sold over 32 million copies worldwide, and is one of the best-selling albums of all time. The album spent 18 weeks at number one on the Billboard 200. Today we will be listening to the 2017 vinyl reissue … the album is a mixture of songs made for the movie and a collection of sixties staples.
Dirty Dancing was a humongous movie. It grossed over two hundred million dollars. It was the first movie to sell one million copies for home video. And, as mentioned earlier, sold over 32 million copies of the soundtrack. It also spawned two more versions of the soundtrack … the multiplatinum 'More Dirty Dancing' and 'Dirty Dancing: The Collector's Edition'. The album also produced three top five singles.
Notable Tracks – '(I've Had) The Time Of My Life' 'She's Like The Wind' 'Hungry Eyes' 'Love Is Strange'
On The Turntable can be heard each Saturday at 6pm and Sunday at 7am on 97.7FM The Rewind. Listen live over-the-air, on line @ www.kvol1330.com and on The Rewind App. The Rewind also has Alexa skills. Listen on your Echo device.