Bruce Springsteen & The E Street Band – Born To Run Tour – February 15, 1977 – Masonic Auditorium – Detroit, MI
In February 1977 I was not a Bruce Springsteen fan. His breakout lp 'Born To Run' was playing on every rock station in Detroit … relentlessly. You couldn't escape it … It was nearing the point of burnout for me…
During that period I was working at Massey-Ferguson, putting the tires on 60 tractors a day … we would start at 6am and was off at 2pm. The hours we actually great …. So, off to work I would go each weekday at 5:30am … It was a 25 minute drive to the 'the shop' …
So, on this cold February morning (it was about 10 degrees) I am heading up 8 Mile on my way to work and Jungleland is just ending, I was listening to WABX … The announcer makes this statement …"I've been told there are a few good seats still left for Bruce's concert tonight at Masonic … if you haven't seen him .. you do not want to miss this …"
Well being the live concert fanatic that I am … I said, why not ? I tell couple of my friends at the shop that I think I am going to leave and get some tickets for the show and asked if they wanted to go … Freddy, Mark, Karen and George are all in ….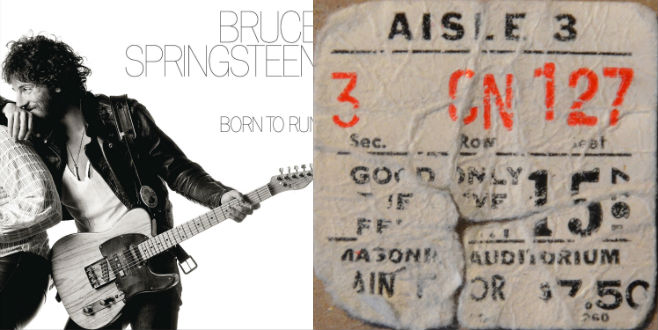 I don't quite remember what lie I told the boss, but I left work at 9am and was down at Masonic at 10 am … just as I walked up to the ticket window, the band had just released their unused tickets … I got six seats in the 10th row!
It was on this night that I went from nearly 'burning out' on The Boss to becoming one of his biggest fans … The show was incredible … The energy was explosive … I hadn't seen this kind of performance since The Who (which has always been my favorite 'live' band) …
The fifteen song set simply rocked … I truly did not believe what I was seeing …. I became a Bruce Disciple … I went to Harmony House the next day and purchased his entire library – it was only three lps at the time..
I have seen Bruce dozens of times … Many times I have made the New Orleans/Memphis/Dallas/Houston swing, catching him four times in just a couple of weeks. I was fortunate to have the opportunity see him in Dublin, Ireland … I saw the original 'The River Tour' in 1980 and the '40th Anniversary River Tour' (both in Dallas) …
It all started on a cold, cold February night in Detroit, MI.
Even getting a flat tire on the way home in 5 degree temps didn't spoil the evening. If you get the chance – don't miss 'The Boss' – I never miss a chance. (FYI – the ticket stub ended up in the wash with the jeans I wore that night – bummer)
Set list – SOMETHING IN THE NIGHT / NIGHT / RENDEZVOUS / SPIRIT IN THE NIGHT / IT'S MY LIFE / THUNDER ROAD / MONA – SHE'S THE ONE / TENTH AVENUE FREEZE-OUT (with The Miami Horns) / ACTION IN THE STREETS (with The Miami Horns) / BACKSTREETS / JUNGLELAND / ROSALITA (COME OUT TONIGHT) (with The Miami Horns) / DETROIT MEDLEY / BORN TO RUN / RAISE YOUR HAND (with The Miami Horns)