The Kinks Greatest Hits!/I Don't Want To Go Home
For this weekend's program, On The Turntable has gone deep into the music vault and will feature two long-playing vinyl discs that you have not heard in a while …. starting with – "The Kinks Greatest Hits!" and finishing with "I Don't Want To Go Home" from Southside Johnny and the Asbury Jukes.
The Kinks Greatest Hits!
The Kinks Greatest Hits! was the first compilation album released in the US by British rock group The Kinks in 1966. The album consists of some of the most popular singles and songs released by The Kinks since 1964. This particular album was only available until 1986 … Along with 'The Live Kinks', it was the sole showcase for the band's early work in the United States during that period.
This is the only Kinks album to reach the US top 10, peaking at #9 … I find this puzzling … I really like the Kinks … whenever I post something about them on social media I get an incredible amount of feedback … It leaves me to believe; the fans may not be many, but they are loyal … Best Ever Albums ranked The Kinks Greatest Hits the 157th best lp of 1966 …. Side two features my favorite Kinks tune ….. "A Well Respected Man"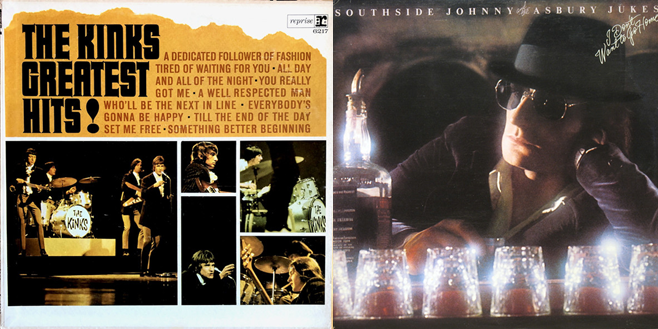 I Don't Want To Go Home
"I Don't Want to Go Home" was the debut album for the New Jersey rock/R&B band Southside Johnny and the Asbury Jukes. Released in 1976, the work helped establish the basis of the Jersey Shore sound. The album was produced and arranged by manager Steven Van Zandt, of E Street Band fame …. Steve also sang, played guitar, wrote the title song. Steve was also responsible for the two contributions of two compositions by Bruce Springsteen … Springsteen also contributed the liner notes for the LP.
The album was released the same year that Springsteen released "Born To Run" … Not much had been heard abouthThe Jersey Shore Sound prior to the release of these two albums … 1976 I took a two month trip down the east coast which started in Wildwood, New Jersey … I spent a week in the bars and night clubs taking in the "Jersey Sound" .. I have been a fan ever since … Best Ever Albums Dot Com considers 'I Don't Want To Go Home' the 276th best album of 1976 … Digital Dream Door Dot com gives it a little more love with a 91 rank on it's Top 100 of the year ….
Make sure you tune in to 'On The Turntable' this Saturday evening at 6pm or catch the rewound version Sunday Morning at 7am. Catch the program on 97.7 FM and 1330 AM in Lafayette or on line www.kvol1330.com or on The Rewind App.