Paradise Theater/Faithful
This week, On The Turntable will feature "Paradise Theater" from Styx an album celebrating 40 years since its release. Following Styx's only #1 LP will be a selection from deep in the vinyl vault we Todd Rundren's "Faithfull' hits the turntable …
Paradise Theater
Paradise Theatre is the tenth album by Styx, released this very month in 1981. It was the band's most successful album, peaking at #1 for 3 non-consecutive weeks on the Billboard Album Chart in April and May. Four singles from the album charted on various charts, all four are featured on side one. Two of those singles reached the top ten on the Billboard Hot 100 … 'The Best Of Times" and "Too Much Time On My Hands"
Styx established themselves as one of America's best commercial progressive rock bands delivering four consecutive triple platinum albums … Paradise Theater was their only LP to reach #1. Best Ever Albums Dot Com considers Paradise Theater to be the 62nd best lp of 1981 and the 628th best of the decade … Digital Dream Door Dot Com ranked the lp 24th on its top one hundred of the year.
Notable Tracks – "Too Much Time On My Hands" "The Best Of Times" "Nothing Ever Goes As Planned" "Rockin' The Paradise"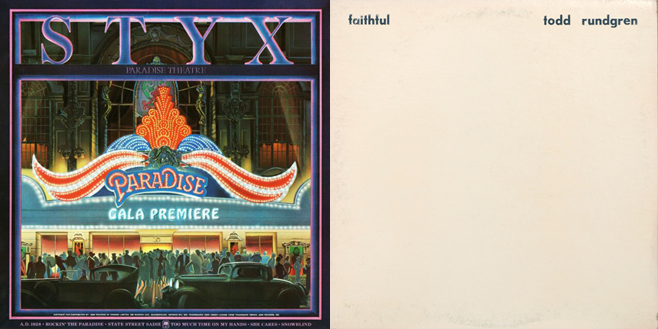 "Faithful"
"Faithful" is an unknown gem that has been of a favorite of mine since it's release in 1976. It is the seventh album from Todd Rundgren … the LP is unique in that one side is completely cover songs and the second side is all original material. The album was released with virtually no advertising. The record company believed that the record would sell solely based on word of mouth from Rundgren faithfuls, pardon the pun. There are some really good covers on side one; Rundgren covers The Beatles, The Beach Boys, Jimi Hendrix, The Yardbirds and Bob Dylan. It is remarkable how closely Rundgren makes these covers sound very close to the originals.
The album's core group of musicians were all members of Utopia which basically makes this a Utopia album in all but name. The name of the LP, Faithful, is based on the side one covers being faithful to the originals. Side two delivers five pure pop sound tunes all written by Rundgren … Best Ever Albums Dot Com considers Faithful to be the 336th best lp of 1976. I feel it is much better than that.
Notable Tracks – "Good Vibrations" "Strawberry Fields Forever" "Rain" "If Six Was Nine"
Catch 'On The Turntable' Saturday evenings at 6pm and Sunday mornings at 7am. Listen over the air on 97.7FM and 1330AM … on line at www.kvol1330.com and on The Rewind App.