Physical Graffiti
It has been 40 years since Led Zeppelin released the lp that many people believe was the artistic peak of their career … Physical Graffiti .. This weekend, On The Turntable will play all four sides in their entirety.
The Album
Physical Graffiti is the sixth studio album from Led Zeppelin. It was released this very weekend in 1975 by the group's new record label, Swan Song Records. The band wrote and recorded 8 songs that became enough music to cover three album sides … the decision was made to expand to a double album and include outtakes from previous lps. The album was a critical and commercial success, debuting at number one in the UK and number three on the Billboard 200 in the US … It reached number one a week later where is sat for six consecutive weeks.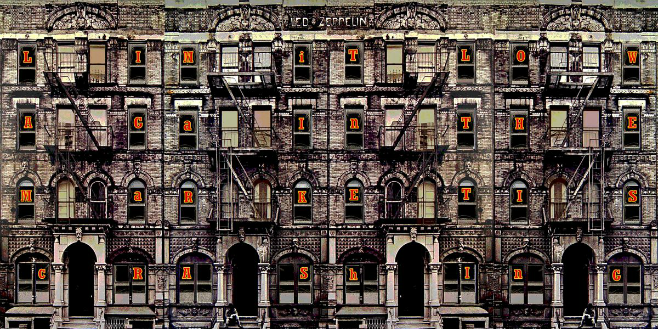 Physical Graffiti would eventually reach 16x platinum status in the US … I was witness to the tour that supported the album in Detroit at Olympia Stadium on January 31, 1975 for the nice price of $7.50 … It was the sixth American City on the tour … That was my last Zeppelin show until I saw the Page/Plant tour at UNO Lakefront Arena in New Orleans, some twenty years later.
The album would receive countless awards and accolades … my favorite quote about the album comes from Jim Miller of Rolling Stone …Led Zeppelin's Physical Graffiti was "the band's Tommy, Beggar's Banquet and Sgt. Pepper rolled into one" … Best Ever Albums Dot Com considers the album as the 5th best of 1975 and the 24th best of the 1970's … Digital Dream Door Dot Com ranked the album as #6 on its list of the top 100 albums of 1975 … Physical Graffiti is listed in the book 1001 Albums You Must Hear Before You Die and Rolling Stone ranked the album #73 on its list of the 500 Greatest Albums of All Time…
Many people call this their favorite Zeppelin lp … I do not have a favorite… I can throw this on the platter just as easily as I can drop the first Led Zeppelin lp …. As a double album … it is pretty damn good.
Notable Tracks – 'Kasmir' 'Down By The Seaside' 'In The Light' 'Ten Years Gone'