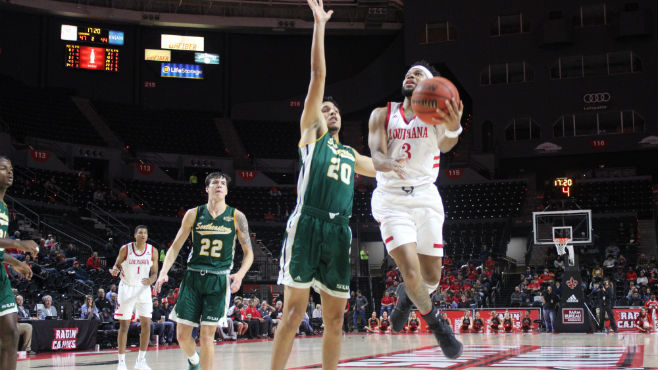 From the outset of Tuesday night's matchup between the Louisiana Ragin Cajuns and the Southeastern Louisiana Lions, it looked like Bob Marlin's group was out of sorts. The team was able to turn it around though late in the first half and parlay it into a 98-81 victory.
How It Happened:
The Cajuns struggled in the early outset of this game, especially with ball control and that helped the Lions get out in front 12-2 before the game was three minutes old. Southeastern Louisiana got up by as much as 14 points with 9:30 left in the first half and were able to hold that until the Cajuns went on a 14-0 run that was capped off by a Kobe Julien layup and took a 39-38 lead with 2:37 left until halftime. It remained a one-point lead after a late jump shot from Southeastern's Von Julien made it 43-42 as both teams headed into the locker room.
Louisiana's second half was much better in terms of ball control and that helped them take control of the contest. Cedric Russell was a key cog in the Cajuns pulling away early with 11 of his 16 points coming down the stretch. The Cajuns put the game out of reach after a nice layup from Russell made it an 18-point ballgame with 2:10 left in regulation and help them improve to 5-3 before another big road trip.
Big Number: 15
If there's one part of the Cajuns game that will need to improve after Tuesday's victory it is ball control. The first half was a mess for Louisiana, committing 15 turnovers and was a big reason for the team falling behind early. They did correct the issue, committing only four turnovers in the second half.
Player of the Game: Jalen Johnson
Johnson was a man on a mission on Tuesday night, racking up a career-high 26 points and 10 boards. After a poor showing in Las Vegas, the Baton Rouge native made a major impact in his first game back at the Cajundome since November 15th.
Next Up: at Arizona State; Tipoff at 8:30