Bruce Springsteen & The E Street Band Live In New York City
This weekend, On The Turntable will celebrate the 20th anniversary of Bruce Springsteen & The E Street Band "Live In New York City" with a special airing of the entire album … all six sides in their entirety …
'Bruce Springsteen & The E Street Band Live in New York City' is the soundtrack of a concert film done by HBO … It was the first ever televised Bruce Springsteen concert … It captured shows in New York of the 1999-2000 E Street Reunion Tour … Side One Features one of my favorite Springsteen "live tunes" – Atlantic City
The album was released this very weekend in 2001.  The tour was the first for the E Street Band in eleven years.  The album reached #5 on the Billboard 200 and #1 on the Billboard Internet Album Charts.  Side two is killer … it includes The River and Youngstown.
Critics complained that this LP was nothing more than a tie-in to the HBO Special … however, this performance is proof on why the E Street Band should never have stopped touring … this is a much better record than the cumbersome 5-disk Live 1975-1985 released  in 1986.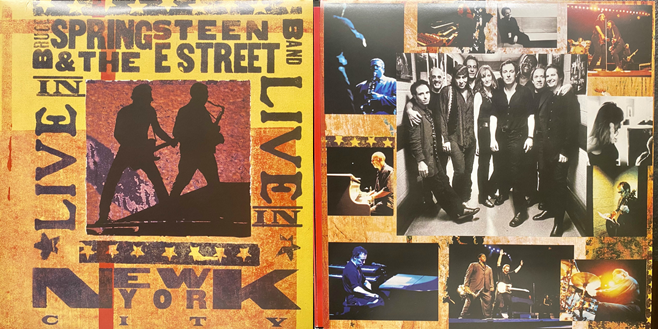 Side four contains only two songs … however, they are good ones … beginning with a 16-minute performance of 'Tenth Avenue Freeze-Out' … I was fortunate enough to see this tour in New Orleans and Houston … This band really rocks in concert …
Side five starts with an obscure "deep cut" … 'Lost In The Flood' from the 'Greetings From Asbury Park, N.J.' LP …. This is a reunion tour that felt natural, not forced like many others have, before and since.
Live In New York City ends with a bang … It begins with Jungleland a fan favorite that is played at every Springsteen concert … and then roars into my favorite Springsteen tune … Ramrod. I am a big fan of the muscle cars from the 70's. This is the best song ever about Detroit Muscle.
Notable Tracks – 'Youngstown' 'Lost In The Flood' 'Jungleland' 'Tenth Avenue Freeze-Out'
Do not miss this special edition of On The Turnable … Listen live over-the-air, on line and on The Rewind App. The program airs Saturday at 6pm and is rewound Sunday at 7am. Catch archived editions of On The Turntable @ www.kvol1330.com