The Rewind – On The Road
It was September 1972 – I was 19 years old and rocking out to WWWW-FM and WABX-FM in Detroit, MI.  The radio stations were burning up the airwaves with Led Zep IV, Exile on Mainstreet, Honky Chateau, Machine Head, Eat A Peach, Close To Edge and more … What a year for rock music.  However, there was one album and the tour that followed that grabbed me and held on tight.
I had been a fan of Leon Russell for years – Mad Dog & Englishman – Leon Russell & The Shelter People and his eponymous debut were already a part of my collection – Then came Carney … and the tour that followed.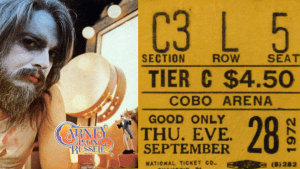 I simply loved this album – How could you not love a song about the Queen of the "Roller Derby?" There are so many good songs – "Tight Rope" "Out in the Woods" and his original version of "This Masquerade" which was made the most popular by George Benson.  Though Benson's version is a classic, I am an originals kinda guy…
The Concert
This was exciting – Leon Russell was coming to Cobo Arena in Downtown Detroit to promote The Carney Album …  we stood in line for hours for tickets.  I knew the seats would be bad by judging how long the line was.  Tier C at Cobo are not the most desirable seats … they are often described as the 'nose bleed' section.  But, look at the price!  Leon Russell for $4.50!   A show like this today would cost more than $100!
Like many of us in those days, we negotiated a way down to the main floor and rushed the stage.  It was pure mayhem and we were having a blast.  I was leaning on the stage when Leon jumped up  on his piano with red guitar and entertained us with a guitar solo during "Roll Away The Stone."  The show was fantastic.  We all had a blast – I sometimes wonder if Luigi, Bonehead, Blaze, Bean, Lewandow and the gang all have the same trips down memory  lane as I do.