Breakin' Away/In The Pocket
Breakin' Away from Al Jarreau & The Commodore's 'In The Pocket' were both released this coming week in 1981. On The Turntable will feature both LPs in their entirety, each side uninterrutped.
Breakin' Away
Breakin' Away is an album that introduced the Pop World to Al Jarreau, the album was released this very week in 1981.   To quote Allmusic; "Breakin' Away became the standard bearer of the L.A. pop and R&B sound."  The album was certified platinum …. And remains Jarreau's most popular album.
'Breakin' Away' spent two years on the Billboard 200 and peaked at #9. The album also hit #1 on both the Jazz and R&B charts.  The LP was nominated for a Grammy for Album Of The Year and Jarreau was awarded two Grammys  — Best Pop Vocal Performance and Best Jazz Vocal Performance … Best Ever Albums Dot Com considers Breaking Away to be the 212th best lp of 1981.  Digital Dream Door Dot Com offers quite a bit more love ranking the lp 36th on its top 100 list of the year.
Notable Tunes – 'We're In This Love Together' 'Roof Garden' 'Breakin' Away'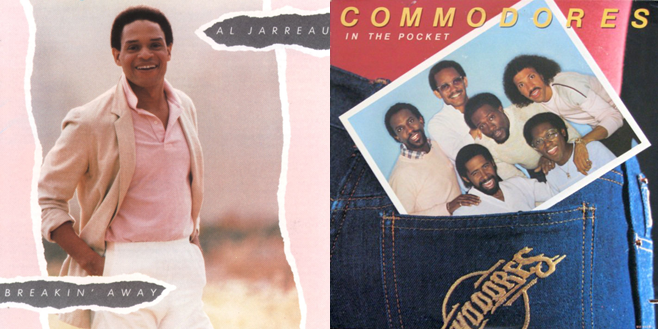 In The Pocket
In The Pocket is the ninth studio lp by The Commodores, released this past week in 1981. It is the last album to feature Lionel Richie as a member of the group. The LP delivered a top ten and top five single with Richie dominating the lead vocals on the record.
'In The Pocket' isn't among the Commodores' essential releases, however, it was still a pleasant way for Richie to end his association with the Southern band.  Best Ever Albums Dot Com considers 'In The Pocket' to be the 855th album of 1981 and finished 97th on the Billboard 200 Year End Chart … Digital Dream Door Dot Com ranked the album 63rd on its top 100 of the year list.
Notable Tracks – 'Lady (You Bring Me Up)' 'Oh No'
On The Turntable can be heard each Saturday @ 6pm and rewound each Sunday @ 7am on 97.7 The Rewind. Listen over-the-air, on line @ www.977therewind.com and on The Rewind App.