Tapestry/Long Player
This weekend On The Turntable features two albums celebrating 50 years since their original release … Program will start with "Tapestry" from Carole King … and wrap it up with "Long Player" from Faces.
Tapestry
Tapestry is the second studio album by singer-songwriter Carole King, released in 1971. It is one of the best-selling albums of all time, with over 25 million copies sold worldwide.  The album received four Grammy Awards in 1972, including Album of the Year.   The album remained on the Billboard charts for 313 weeks, second only to Pink Floyd's 724 weeks with The Dark Side of the Moon.  The lead singles, featured on side one, "I Feel The Earth Move" and "It's Too Late" spent five weeks at the top of both the Billboard Hot 100 and Easy listening charts.
Along with the Grammy for Album Of The Year, the record also was awarded Grammys for Best Female Pop Vocal Performance and  Record of the Year for "It's Too Late", and Song of the Year  for "You've Got a Friend" making King the first solo female artist to win a Grammy Award for Record of the Year, and the first to win Song of the Year.  Rolling Stone ranked the LP at 25 on its 500  Greatest Albums Of All Time list.  Best Ever Albums Dot Com considers Tapestry to be the 11th best album of 1971 and the 63rd best of the 1970's.  Digital Dream Door Dot Com ranks the LP #6 on it's top 100 of the year … Tapestry is also listed in the book "1001 Albums You Must Hear Before You Die"
Notable Tracks – 'It's Too Late' 'You've Got A Friend' 'Smackwater Jack' 'So Far Away'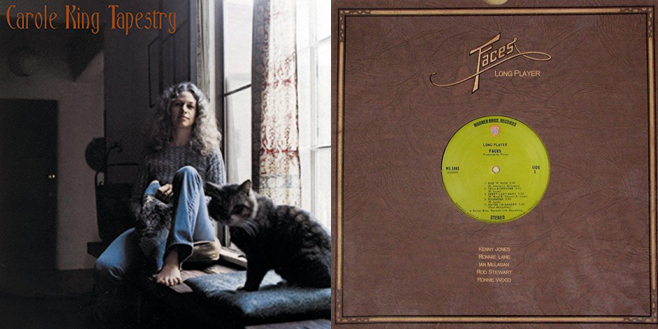 Long Player
Tapestry and Long Player only share two things in common … They were each the second album released by the artists and they were both released in 1971 … But, in contrast, Faces second LP did not receive the accolades and airplay that Carole King received.  And deservedly so … I am a huge Faces fan … I have their entire catalog … And, though this lp only received  mediocre sales and criticism … there are some gems on this disc … Side one starts with 'Bad 'n  Ruin' a rollicking rocker and finishes with a live version of McCartney's "Maybe I'm Amazed" recorded live at The Fillmore East …
Long Player has been described as 'big and messy' … and that it is … you will find rollicking party rock tunes … saloon bar rockers … live recordings and ballads … however, Faces were and became formidable forces in the early seventies … Side two starts with one of my favorite Faces tunes … 'Had Me A Real Good Time' … I witnessed a live version of this on the Faces last tour and it was fantastic … here's a side note … '(I Know) I'm Losing You' was recorded during this session but showed up on Rod's solo LP 'Every Picture Tells A Story'
Notable Tracks – 'Maybe I'm Amazed' 'Bad 'n' Ruin' 'Had Me A Real Good Time'
Don't miss On The Turntable. The program airs Saturday evening at 6pm on 97.7FM/1330AM The Rewind .. on line at www.kvol1330.com and on The KVOL App. On The Turntable replays Sunday at 7am.