Aqualung/Rock On!
This weekend's On The Turntable program will be a real treat … two fifty year anniversary airings are in store for you … the two albums that we will feature were two of my favorite in 1971 and are still favorites today … It is difficult for many Baby Boomers to wrap their mind around that Jethro Tull's  "Aqualung" and Humble Pie's "Rock On" turn 50 this month.
Aqualung
I was three months shy of graduating from high school in March 1971 when Jethro Tull released their fourth lp  …. Aqualung.  And, it rocked me … the local Detroit, Michigan FM rockers were playing no fewer than six songs from this landmark album; which made me a Tull fan for life … For me, there is not a bad song in the group … There are electrifying rockers … "Locomotive Breath" and, of course, the title cut,…extremely deep acoustic tunes like "Wind Up' 'My God' and "Hymn 43" … but the song that stole the heart within my ears was the whimsical fable "Mother Goose" … This album has been a part of my collection for 50 years … This weekend On The Turntable will spin the 180 gram vinyl reissue released in 2015.
The initial reviews for Aqualung were mixed … retrospective reviews have lauded the lp as a classic … that is not nearly as puzzling as why this band is not in the Rock n Roll Hall of Fame … Aqualung has sold over seven million copies worldwide … The lp is featured in the book "1001 Albums You Must Hear Before You Die" … Best  Ever Albums Dot Com considers the record the 16th best of 1971 … the 87th best of the decade and 337th on it's top 500 all time list … Digital Dream Door Dot Com ranked Aqualung #12 on its top 100 of 1971 … That alone should have given the band a nod for a nomination.
Notable Tracks – 'Aqualung' 'Locomotive Breath' 'My God' 'Mother Goose'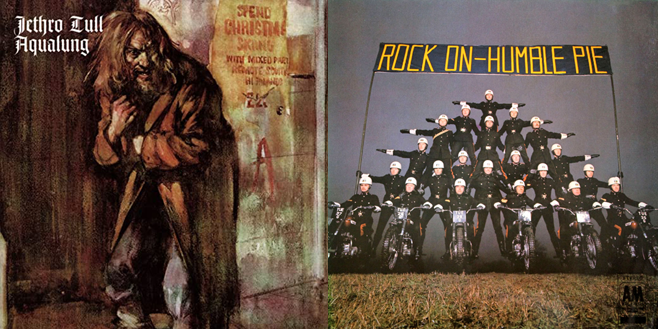 Rock On!
'Rock On' is the 4th lp from Humble Pie, their second on A&M Records … Released on March 1, 1971 … this is the lp that moved the band into the pro ranks after being considered, for years, the "minor league Rolling Stones"  … This was the last Humble Pie record to feature Peter  Frampton as a member of the band … Side one opens with my favorite song from the British Blues/Rockers …. 'Shine On' is most likely recognized by most as  a Peter Frampton song due to its inclusion on his 'Frampton Comes Alive' solo LP … it also includes, most likely, one of the band's most recognizable tune … Stone Cold Fever.
Most of the songs on the LP were performed live on tour before being recorded for the album.  Though Peter Frampton would go onto superstardom just a few years later, Rock On points the spotlight on his gifted lead guitar work … Steve Marriot's soulful vocals are excellent … I have always considered him on of the great rock n roll vocalists … I was lucky enough to see this band in 1972 … They were the headliner at a show in Detroit … Dr John and Edgar Winter's White Trash were the openers … the ticket cost us a whopping four dollars and fifty cents ! 
Notable Tracks – 'Stone Cold Sober' 'Shine On' 'Rollin' Stone'
Don't miss On The Turntable this Saturday at 6pm. The program is rewound Sunday at 7am. You can listen over-the-air, on line and on The Rewind App. Archived editions can be found here – https://kvol1330.com/on-the-turntable-on-demand-2/