Elvis Presley Weekend
This weekend will mark what would have been Elvis Presley's 86th birthday and, as we do each year at this time, On The Turntable will celebrate Elvis' birthday with the airing of specials LPs … 40 years ago this year, the documentary This Is Elvis was released, we thought it would be a great time to dust off our vinyl copy and share it with you.
This Is Elvis
This Is Elvis is a 1981 documentary film about the life of Elvis Presley written and directed by Andrew Solt and Malcolm Leo. It combines archival footage with reenactments, and voice-over narration by pop singer Ral Donner imitating Presley's speaking voice. Side one features one of my favorite Elvis tunes; (Marie's The Name) His Latest Flame. It also showcases early hits Hound Dog and Heartbreak Hotel.
The movie was screened out of competition at the 1981 Cannes Film Festival. The film grossed $2 million at the box office in the U.S. and Canada, ranking #92 for 1981. Side two features early hits Don't Be Cruel, Teddy Bear, Jailhouse Rock and Merry Christmas Baby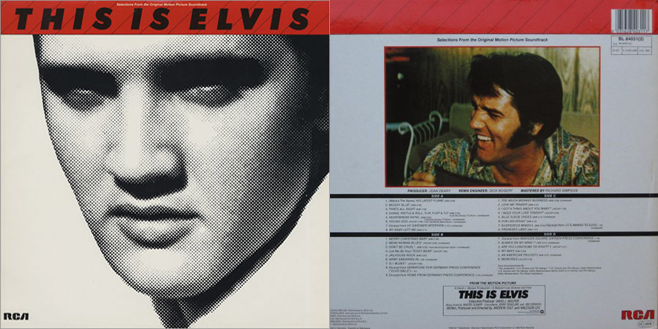 The material was programmed randomly and really doesn't tell the story of Elvis, however, the material is good. Side Three features Love Me Tender, Blue Suede Shoes and Viva Las Vegas …
Side four includes an interview at Madison Square Garden and previously unreleased live versions of "Always On My Mind" and "An American Trilogy."
Notable Tracks – '(Marie's The Name) His Latest Flame' 'Always On My Mind' 'An American Trilogy' 'Merry Christmas Baby'