Elton John/Tumbleweed Connection
1970 was an incredibly busy year for Sir Elton John. He released his first lp in the United States, toured to support it, recorded and released is third lp, Tumbleweed Connection, and recorded the 'in-studio' live show 11/17/70. This week #OnTheTurntable will feature both lps during an Elton John Weekend on The Rewind.
Elton John
Elton John is actually the second studio album by the English singer-songwriter, released this very weekend in 1970. It was released by Uni Records as John's debut album in the United States; many people, here in the states, assumed it was his first album, as Empty Sky was not released in the US until 1975. The album includes his breakthrough single "Your Song". It was nominated for the Grammy Award for Album of the Year in 1971 and has been inducted in to the Grammy Hall of Fame.
The album was not intended to be an actual release, just a polished demo to present to other artists to consider … imagine that … it now sits on many favorite's lists … including my own … I have owned this lp in every format imaginable … Best Ever Albums Dot Com considers Elton John to be the 65th best of 1970 and the 588th of the 1970's … Rolling Stone ranked it number 468 on its list of the 500 Greatest Albums of All Time … Digital Dream Door placed it 46th on its 100 best of 1970.
Notable Tracks – 'Your Song' 'The King Must Die' 'Take Me To The Pilot' 'Sixty Years On'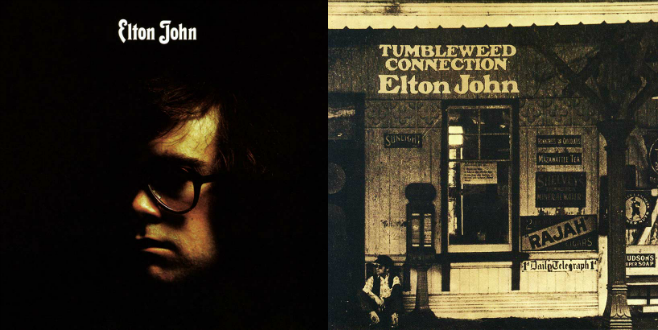 Tumbleweed Connection
Elton John and Bernie Taupin followed their breakthrough lp with a concept lp … based loosely on the American West, Tumbleweed Connections is the third lp from Sir Elton … Dee Murray and Nigel Olsson appear for the first time together on this album as the rhythm section on "Amoreena". There were no singles released from this album … and is still considered a favorite by dedicated fans … Come Down In Times, featured on side one, one of prettiest songs every created by the John/Taupin team …. It also features Country Comfort .. a song actually made famous by Rod Stewart on this Gasoline Alley lp.
Tumbleweed Connection peaked at number five on the Billboard 200 .. not bad for an lp that did not release a single to support it … Rolling Stone ranks Tumbleweed Connection at 463 on its list of the 500 Greatest Albums of All Time …. Best Ever Albums Dot Com considers the lp at the 33rd best of 1970 and 217th best of the 1970's … Digital Dream Door Dot Com ranks Tumbleweed Connection at 23 on its 100 best of 1970 list …. Side two features, what I believe is one of Elton and Bernie's deepest song writing efforts … Talking Old Soldiers.
Notable Tracks – 'Amoreena' 'Burn Down The Mission' 'Where To Now St. Peter' 'Talking Old Soldiers'