Flesh + Blood/Middle Man
This weekend, On The Turntable will feature two lps that may not be the most popular, but both are celebrating 40 years since their release and are two of my favorite acts … Flesh and Blood from Roxy Music, a glam rock band that may be second best ever … and Boz Scagg's Middle Man … not his best album … but a very good one.
Flesh + Blood
Flesh + Blood is the seventh studio album by the English rock band Roxy Music. Released this very weekend in 1980, it was an immediate commercial success peaking at No. 1 in the UK. The album also peaked at No. 35 in the United States and No. 10 in Australia. I have been a fan of Roxy Music since 1973 … I was not a fan of this album during its original release, other than the cover of Wilson Pickett's 'In The Midnight Hour' … however, about six or seven years ago I dusted the lp off and have become a big fan of this under-appreciated gem.
Flesh + Blood is suave, sophisticated and charming … The singles released from the album have garnered most of it's critical acclaim. The first single "Over You" is the only Roxy Music single included in Dave Marsh's The Heart of Rock & Soul: The 1001 Greatest Singles Ever Made. "Over You" is ranked at #511 in the book. Roxy Music never really took off in the US like they did in the UK. That being said, I believe that Roxy Music is one of the greatest glam rock bands of all time …. I rank them with Bowie and T.Rex … Best Ever Albums Dot Com considers Flesh and Blood the 59th best lp of 1980.
Notable Tracks – 'In The Midnight Hour' 'Over You' ' Eight Miles High' 'Oh Yeah'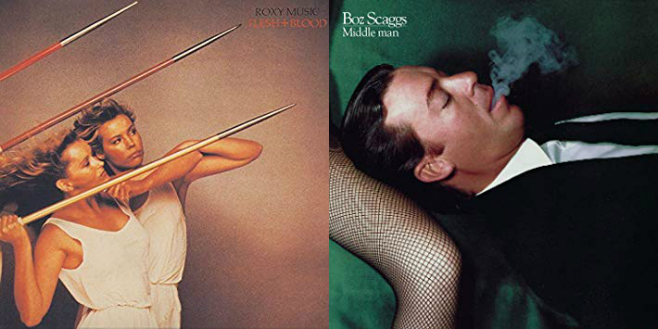 Middle Man
Middle Man is an album by Boz Scaggs that was released by Columbia Records in 1980. Middle Man was not his best album … but a timely one …. This was Scaggs last album for Columbia before a self imposed eight year sabbatical … Middle Man returned to the soul influenced rock from Silk Degrees.
Boz Scaggs hired members of the band Toto as back musicians on Middle Man … the album reached No. 8 in the Billboard 200, with singles Breakdown Dead Ahead" and "Jojo" reaching the top twenty on the Billboard Hot 100 … I recently saw Boz Scaggs in Lake Charles and those two singles are a big part of his show today … and by the way … he was excellent … Best Ever Albums Dot Com considers Middle Man the 561st lp of 1980.
Notable Tracks – 'JoJo' 'Breakdown Dead Ahead' 'Do Like You Do In New York'