Jethro Tull – Thick  As A Brick Tour – November 9, 1972 – Cobo Arena, Detroit, MI
It was 47 years ago this week that I saw Jethro Tull's 'Thick As A Brick' Tour in Detroit.  I was a 19 year old fan of this unique, eclectic rock band from England.  Aqualung was a captivating lp that was released my senior year in high school and made me a huge fan of Ian Anderson and the band; so much so I bought Benfit and Stand Up shortly thereafter.  Thick As A Brick was a highly anticipated album.  The reviews of the album were mixed.  Tull had made the progression from an electric folk band (Benefit) to a full-blown rock band (Aqualung) to a Prog Rock band with Brick.  I am not certain everyone was ready for this progression when it was released.  But, I ran out and bought it right away.
I still own my original copy with the newspaper insert.  (Album Art was so cool.)  The lp took a bit of time for me to warm up to, however, after a just a few listens, the 22 minute plus side one has become a staple in my collection.
At the announcement of the concert at  Cobo Arena, I jumped at the opportunity to attend.  Ian Anderson was mesmerizing … They played the entire 22 minute Thick As Brick.  That was followed by numerous cuts from 'Aqualung', 'Benefit' and 'Stand Up'.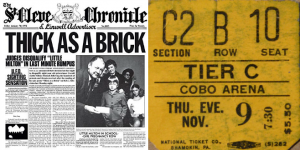 How is this band not in the  Rock N Roll Hall of Fame.  What kind of politics are being played here?  Aqualung and Thick As A Brick alone should get them a nod.  I vote in the Rock Hall ballot every year, and every year I see bands that are not as worthy as Jethro Tull to be enshrined if Rock's Hall?  I just don't get it.  What do you think?