The Greatest Xmas Songs
It is the weekend before Christmas … Therefore, this weekend we will feature a double holiday album released last year from Universal Music … it is entitled "The Greatest Xmas Songs"
The Greatest Xmas Songs is a double lp that was released last year by Universal Music … Disc one is pressed in white vinyl and disc two in red vinyl … It is a very good collection of Xmas songs released from the 60's, 70's and 80's when many iconic pop leaning Xmas songs were released … Side one includes Queen, Coldplay, U2 and finishes with The Pointer Sister's "Santa Clause Is Coming To Town" and Jose Felciano's "Feliz Navidad"
This album was limited to 2500 number copies .. and was released on 180 gram colored vinyl .. it is a nice collector's piece .. Side Two starts with Paul McCartney's "Wonderful Christmastime" , one of my favorites, and includes cuts from Bryan Adams, Elton John and Frankie Goes To Hollywood.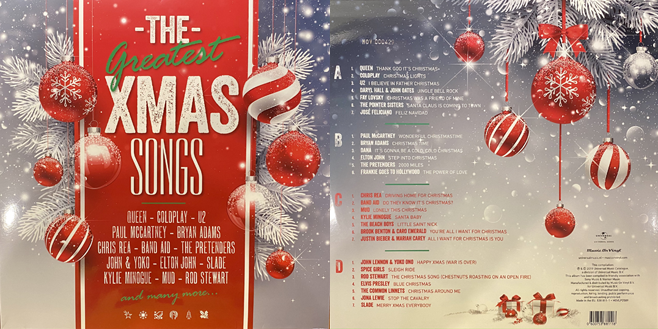 This compilation two album disc was released in 2019 and wouldn't be complete without some of the best artists from the 90's and beyond …  Side three includes songs from Kylie Minogue, Chris Rea, and a duet with Justin Beiber and Mariah Carey.
Side four includes some of the biggest names and xmas songs in pop music … It starts with my favorite Christmas song … Happy Xmas (War Is Over) from John Lennon & Yoko Ono … it also includes The Christmas Song from Rod Stewart and Blue Christmas from Elvis.
Overall this is an excellent collection of beautiful Xmas songs. I also looks quite festive on the turntable with the white and red vinyl discs. You cannot go wrong with this collection.
Notable Tracks – "Wonderful Christmastime" "Happy Xmas (War Is Over)" "Santa Claus Is Coming To Town" "Little Saint Nick" "Blue Christmas"
On The Turntable can be heard Saturday evenings at 6pm and Sunday mornings at 7am on The Rewind, The Greatest Hits Of All Time. Listen over-the-air on 97.7FM and 1330AM, on line @ www.kvol1330.com and stream on the KVOL App.