Diamantina Cocktail/One More Song
This weekend, On The Turntable will dig deep into the vinyl vault and feature two albums that are not ranked very high on any type of album chart, however, they are good lps from performers with superstar chops … we start with "Diamantina Cocktail" from The Little River Band and follow that with "One More Song" from Randy Meisner of Eagles fame.
Diamantina Cocktail
Diamantina Cocktail is the third album by the Little River Band. The U.S. version of the album was actually a partial compilation of the Australian versions of After Hours and Diamantina Cocktail.  The album was the band's breakthrough in the United States, reaching #49 on the Billboard Top LPs & Tapes chart in 1977 and containing two top 20 singles in "Help Is on Its Way" and "Happy Anniversary."
About the album's title …. A "Diamantina Cocktail" is a drink invented in the area of the Diamantina River in Queensland, Australia. It consists of Bundaberg Rum, condensed milk and an emu egg.  I am guessing they drink it with a Vegamite Sandwhich … Just kidding … Best Ever Albums Dot Com considers Diamantina Cocktail to be the 584th best lp of 1976.
Notable Tracks – "Happy Anniversary" "Help Is On Its Way"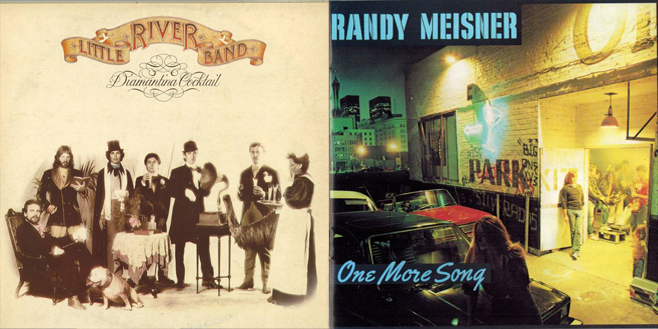 One More Song
This album may be one of my favorite obscure lps … One More Song is the second solo studio lp from Randy Meisner former Eagles bass guitarist … I have owned this lp since its release 40 years ago in late 1980 … the album peaked at number 50 on the Billboard 200 … One More Song opens with 'Hearts On Fire' a favorite of mine that sounds very much like an Eagles song … the second song is an excellent rock ballad … Gotta Get Outta Here … These two songs alone are a reason to own this lp.
One More Song  highlights Meisner's knack for writing honest, heartfelt love songs with a country- rock flavor … much like Eagles albums … In fact, he gets help on the lp from Glenn Frey, Don Henley; and the title song was written by Jack Tempchin who wrote or co-wrote many Eagles and Glenn Frey songs … Best Ever Albums Dot Com Considers One More Song to be the 483rd best lp of 1980 … As I said at the beginning of the post, I dug deep into the vinyl vault for today's selections.
Notable Tracks – "Hearts On Fire" "Gotta Get Out Of Here" "One More Song" "Deep Inside My Heart"