Leon Russell/Romance Dance
This week, #OnTheTurntable will feature two lps from two of the most unmistakable voices in popular music. Release 50 years ago .. The eponymous debut from Leon Russell and Romance Dance From Kim Carnes. Both of these artists were seasoned journeymen prior to their solo careers, backing up successful bands and chosen session players.
Leon Russell
Leon Russell is the debut solo album by Leon Russell. It followed his debut with the Midnight String Quartet and a production by Russell and Marc Benno billed as the Asylum Choir. If you haven't had the opportunity to enjoy Asylum Choir you need to … "A Song for You", written by Russell for this album, is a slow, pained plea for forgiveness and understanding from an estranged lover, the tune is one of Russell's best-known compositions. It has been performed and recorded by over 200 artists, spanning many musical genres. Elton John has called the song an American classic.
This is an lp that has stood the test of time … This week we will feature the 180 -gram vinyl reissue on blue vinyl that I purchased about a year ago … I still own my original purchase and have owned this lp on cassette, eight track and cd … Leon has never done an lp that has lived up to this masterpiece, though Shelter People and Carney are still a couple of my favorites …. Best Ever Albums Dot Com considers Leon Russell the 167th best of 1970 … and I find that a crime … and I still believe that this is one that Robert Dimery got wrong when he left it out of his book '1001 Albums You Must Hear Before You Die,' making this, in my mind, one of the most underrated albums of all time.
Notable Tracks – "A Song For You' 'Shootout On The Plantation' 'Delta Lady' 'Hummingbird'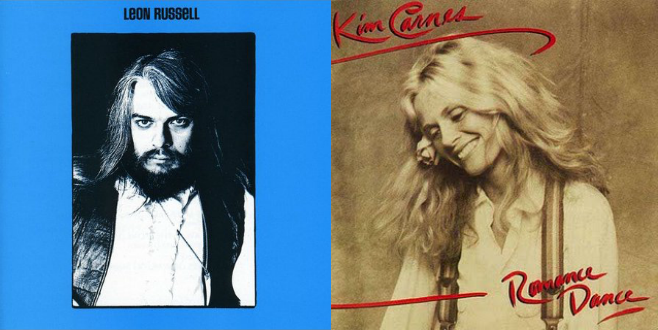 Romance Dance
With the second lp, #OnTheTurntable this weekend, we are going to feature a female rocker that I believe has been highly underrated in her career … Romance Dance is the fifth studio album by Kim Carnes, released in June, 1980. The album spawned two singles, "More Love" and "Cry Like a Baby", which peaked at #10 and #44 on Billboard's Hot One Hundred, respectively … Prior to her solo career, Kim was a seasoned journey woman of pop and folk music as a writer, co-writing several songs and touring with David Cassidy in the early 70's.
Romance Dance was released just two months after Kim notched a number four hit by teaming up with Kenny Rogers for "Don't Fall in Love With a Dreamer …. The lp was soon overshadowed by her sixth lp …. Mistaken Identity which produced the monster hit "Betty Davis Eyes" …. I was fortunate to see Kim play at the Wintergarden in Dallas … She could rock … and, I love her marbled voice … Digital Dream Door Dot Com ranked Romance Dance at #74 on their Hot 100 of 1980.
Notable Tracks – 'More Love' 'Cry Like A Baby'