Gimme Some Truth: The Ultimate Mixes
December 8th marks 40 years since the tragic death of John Lennon … We are honoring John with a 'John Lennon Weekend' on the Rewind and thought it would be apropos to feature the new, four LP compilation box set that was released on John's 80th birthday … "Gimme Some Truth – The Ultimate Mixes" … you will hear all eight sides in their entirety.
Gimme Some Truth was executive produced by Yoko Ono Lennon and produced by Sean Ono Lennon. All 36 songs were hand picked by Yoko and Sean. Side one begins with 'Instant Karma' and then passes through the John Lennon/Plastic Ono Band material.
Side two transitions from Plastic Ono Band to Imagine and features two of my favorite Lennon songs …. God and Jealous Guy.
'Gimme Some Truth – The Ultimate Mixes' was engineered by multi GRAMMY® Award-winning engineer Paul Hicks, the songs were completely remixed from scratch. Side three includes the title song and How Do You Sleep … often referred to as a message to Paul McCartney.
The final mixes were conducted at the former A&M Studios where Lennon recorded some of the Rock 'n' Roll album … it was then mastered in analog at Abbey Road Studios … Side four features cuts from Mind Games.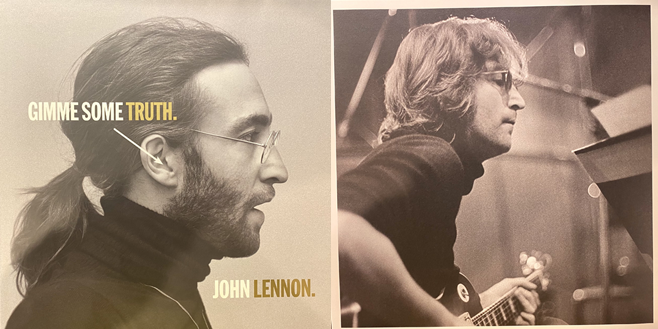 Side five moves on through "Walls and Bridges," a favorite of mine that I play often, and the only cut from "ock 'n' Roll … Stand By Me …
Every song on side six are from the 1980 LP 'Double Fantasy" … including what has become a favorite of mine … "I'm Losing You" was performed in perfect John Lennon vocals … it reminds me of Plastic Ono Band material.
Side Seven continues with songs from Double Fantasy and rolls into the posthumous "Milk And Honey" with 'Nobody Told Me.'
John's senseless murder, committed forty years ago this weekend, stole so much music from us. Rolling  Stone Magazine ranked John Lennon as one of the top five vocalists on their list of the Top 100 Greatest Singers Of All Time… Side eight finishes with two singles that are every bit of John's essence … Happy Xmas (War Is Over) and Give Peace A Chance.
Notable Tracks – "I'm Losing You" "God" "Working Class Hero" "Happy Xmas (War Is Over)" "Watching The Wheels"
Catch the entire 4LP box set, aired in its entirety, each side uninterrupted, On The Turntable – Saturday at 6PM and replayed Sunday at 7am. Listen over-the-air on 97.7FM, 1330AM, on line @ www.kvol1330.com and stream the program on the KVOL App.