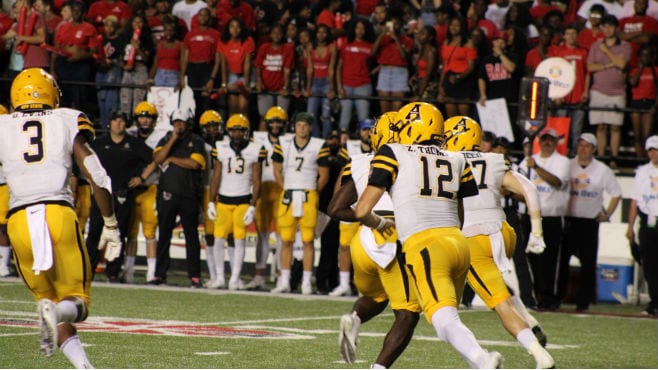 Headed into Wednesday's marquee matchup, it felt like the Louisiana Ragin Cajuns and App State Mountaineers would be a high-scoring ballgame. However, both teams had a hard time getting into that second gear, but the Mountaineers would prevail over the Cajuns in a 17-7 ballgame.
How It Happened:
After an early back-and-forth, Zac Thomas found the endzone late in the first quarter when he took it himself and scored from seven yards out to take an early lead. It remained that way until the final minute of the first half when Levi Lewis found Nick Ralston in the endzone on a 14-yard crossing route to tie things up as both teams headed into the locker room.
After the Cajuns defense forced a punt, the offense was stymied at the Mountaineer 25-yard line with an opportunity to take the lead for the first time tonight. However, that quickly turned sour when App State blocked the field goal by Almandares. The Mountaineers took advantage and nailed one through the uprights on a 40-yard field goal to take a 10-7 lead.
The Mountaineers finished things off with a 19-play drive that ate up a little more than ten minutes off the clock that ended with another seven-yard touchdown run to seal the deal.
Big Number: 21,012
The Cajuns announced attendance on Wednesday night. Not half bad for a midweek game, but the Cajuns contingency could have been more pronounced with all the buzz on social media over the last week and a half.
Player of the Game: Rhys Byrns
You read that right, a punter has earned player of the game honors. When you have someone get three punts inside the 10-yard line to pin a team deep, that's enough to earn conference player of the week honors.
Next Up: Thursday at Arkansas State; Kickoff at 6:30 pm