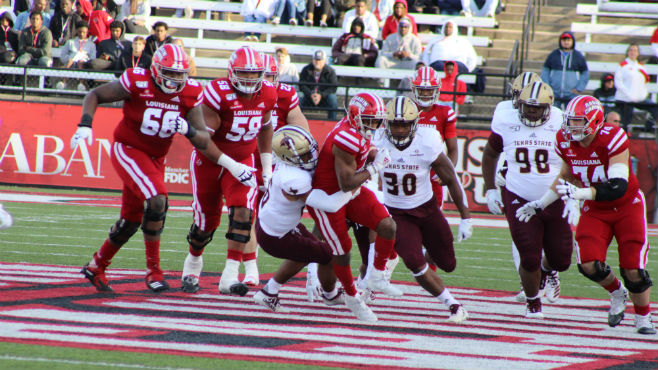 For much of the first half of Saturday's matchup between the Louisiana Ragin Cajuns (6-2) and Texas State (2-6), it looked like the Cajuns couldn't get out of first gear. However, the second half adjustments worked and resulted in a big 31-3 victory over the Bobcats.
How It Happened:
After an uneventful third quarter, the Cajuns scored the first points with 6:28 left in the first half when Elijah Mitchell blazed a trail down the field with a 39-yard run down the left sideline to take control of the contest. The Bobcats responded with a 10-play drive that ended with Joshua Rowland kicking a 33-yard field goal to make it 7-3 with 1:44 left until halftime. Stevie Artigue was able to get one just over the uprights as time expired in the first half to take a 10-3 lead into the locker room.
The Cajuns quickly took control of the ballgame in the second half when Levi Lewis connected with Nick Ralston on a 24-yard touchdown pass, making it 17-3.
Late in the third quarter, Louisiana found paydirt once again, this time it was Chris Smith taking it on the ground and walking into the endzone to extend the lead. Raymond Calais put the exclamation point on an impressive third quarter with a 34-yard touchdown reception off of a wheel route.
Big Number: 210
The Cajuns offense really came alive in the third quarter with 21 points and 210 total yards of offense. After a relatively boring first half, the crowd at Cajun Field got a great homecoming performance after halftime from Levi Lewis and the rest of the crew.
Player of the Game: Elijah Mitchell
Mitchell made the most of his opportunities on Saturday with 13 carries for 126 yards and a touchdown that started off the offensive onslaught for the Cajuns.
Next Up: Thursday at Coastal Carolina; Kickoff at 6:30 pm