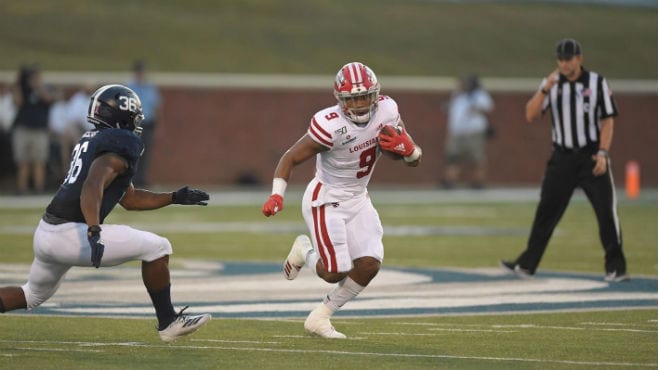 STATESBORO, Ga. The Louisiana Ragin' Cajuns (4-1, 1-0 Sun Belt) didn't have a perfect game on Saturday afternoon, but it was just enough to come away with a 37-24 win over Georgia Southern (1-3, 0-1 Sun Belt).
How It Happened
The Louisiana Ragin Cajuns came out the gates strong with an efficient five-play drive that was highlighted by a 51-yard pass to Bam Jackson from Levi Lewis. Elijah Mitchell punched it in a few plays later from five yards out to take the early lead.
Georgia Southern responded on the next drive with a methodical 15 play drive that resulted in a 28-yard field goal from Tyler Bass. The Eagles got within one point early in the second quarter after a muffed punt by Eric Garror. That resulted in another field goal from Bass to get them within one point.
The Cajuns responded with a 10-play drive that was punctuated by a three-yard run from Trey Ragas, making it a 14-6 ballgame. Louisiana's defense got a three-and-out, but another muffed punt return by Garror set Georgia Southern up with short field position and resulted in a two-yard touchdown run by Logan Wright to make it a one-point ballgame.
The Cajuns looked to close out the first half with a big touchdown drive but had to settle for a 25-yard field goal from Stevie Artigue, making it 17-13 as both teams headed into the locker room.
The second half for Louisiana started off well with a three-and-out on defense and an 11-play drive that was capped off by a one-yard touchdown pass from Levi Lewis to Ja'Marcus Bradley to give them an 11-point lead. The Eagles had one more response in the third quarter with a 14-play drive that took 7:41 off the clock and resulted in a one-yard touchdown run from J.D. King followed by a two-point conversion made it a three-point ballgame headed into the fourth quarter.
After Bass nailed his third field goal of the game, the Cajuns finished the job with Ragas pushing the pile on a six-play drive, ending with a one-yard run to secure the victory.
 Big Number: 214
The Ragin Cajuns offense looked great on first down with 214 total yards on 30 plays. For comparison sake, the Eagles only had 82 yards in 28 plays on first down. It was another dominant day for the Cajuns.
Player of the Game: Trey Ragas
Saturday was Ragas' time to shine with 16 rushes for 131 yards for two touchdowns. Much like Elijah Mitchell last weekend, Ragas carried the workload on the way to victory.
Next Up: October 9th vs Appalachian State; Kickoff at 7 pm