The Beatles or The Stones? That question is like "Chicken Or The Egg?" It is my belief that that question began this very week in 1964 … The Beatles released 'Introducing … The Beatles' and The Rolling Stones released their eponymous debut lp.
The Beatles or The Stones … That question is still raised today. The Beatles are my favorite band of all time. And, The Stones are a very close second. I own every lp of each band. I have US releases, UK releases, vinyl, cds, cassettes and 8-tracks …
This weekend, The Rewind will feature a British Invasion Weekend and On The Turntable will air vinyl copies of both of these groundbreaking lps …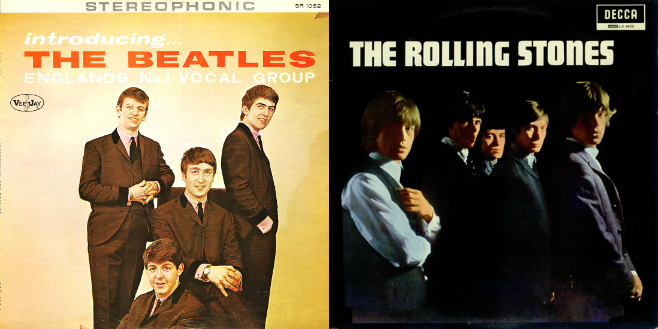 Introducing … The Beatles
The first Beatles album released in the U.S., Introducing…The Beatles is a slightly abridged version of Please Please Me, which had been released in the U.K. four months earlier. It includes two fewer tracks than its British counterpart, deleting "Please Please Me" and "Ask Me Why."  This album was frequently counterfeited with various releases … I am certain the lp we will listen to this weekend is one of those counterfeit  …
… I own two copies of this lp … the sixth song on side one is listed as "Love Me Do" on the back of the lp cover and also on the back label on both lps … the two lps have different labels on the actual disks … but here is the strange part … both song listings on the actual lps list song six as "Love Me Do" … however one lp as the song "Ask Me Why" as the sixth song while the other does have Love Me Do … which is the lp we will feature this coming weekend … I own Please Please Me from The Beatles 180 gram vinyl box set … that is the lp that I recommend to own and listen to … Best Ever Albums Dot Com considers Introducing … The Beatles as the 133rd best lp of 1964 …There were 10 Beatles lps released in 1964 and three are listed in the top ten for the year ….
Notable Tracks – 'Love Me Do' 'Twist And Shout' 'Chains' 'Do You Want To Know A Secret'
The Rolling Stones
Just four months following the release of Introducing … The Beatles … The Rolling Stones released their eponymous debut … Not a single song was a Jagger/Richards song … the lp was made up of many pop and blues covers … however .. they were very well done covers … there was a difference in the track selection from the US and UK versions … This weekend, you will hear the UK version from the 180 gram Stones box set …
Upon its release, The Rolling Stones became one of 1964's biggest sellers in the UK, staying at number one for twelve weeks.  The album was only released in mono in both the UK and US; no true stereo mix was ever made.  The Rolling Stones reached No. 11 in the US, going gold in the process. To date, this is the Stones' only American studio album that has failed to place in the top five on the Billboard album charts.  The album is featured in the book 1001 Albums You Must Hear Before You Die … Best Ever Albums Dot Com considers The Rolling Stones the 15th best lp of 1964 and the 221st of the 1960's … Digital  Dream Door Dot Com considers the lp the 7th best of 1964
Notable Tracks – 'Route 66' 'Carol' 'I Just Wanna Make Love To You' 'I'm A King Bee'