It Ain't Easy/Silk Purse
This week On The Turntable will feature two lps that were not huge sellers, as album sales go, however, they both produced monster singles.
It Ain't Easy – Three Dog Night – March 1970
It Ain't Easy is the fourth album by Three Dog Night, released in 1970.  After a remarkable string of hits through 1969, Three Dog Night released It Ain't Easy, its fourth album in less than 18 months. Once again, it was a hot seller, going to number eight … the album consisted primarily of songs written by some of rock music's best composers.  A list that included Randy Newman, Ron Davies and Elton John.
According to lead singer Chuck Negron's book Three Dog Nightmare, the album's working title was The Wizards of Orange, with a cover featuring the band's members wearing orange make-up and posing in the nude. The band's record company, ABC/Dunhill, rejected the original album title and cover art …. Best Ever Albums Dot Com considers the album the 422nd best of 1970 even though it featured the first number hit by the band, a song that would own the radio airwaves for the entire summer and become Billboard's number 11 song of 1970
Notable Tracks – 'Mama Told Me (Not To Come)' 'Your Song' ' It Ain't Easy' 'Out In The Country '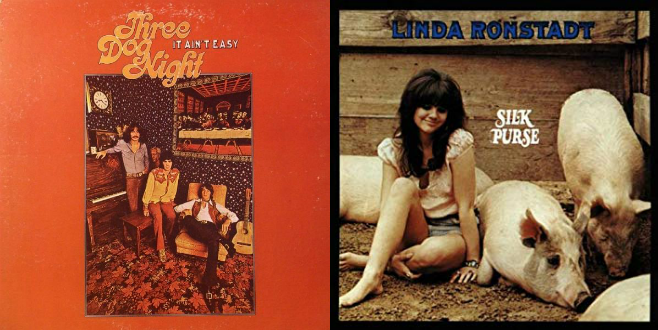 Silk Purse – Linda Ronstadt – April 1970
Silk Purse is the second studio album by Linda Ronstadt, released in April 1970, a year after the release of her solo debut …  It was recorded at Cinderella Sound Studio in Nashville – the only Ronstadt album recorded in the country music capital … Side one of this lp features Linda's rendition of Hank Williams' 'Love Sick Blues', one of my all time favorite covers. In my opinion ability to cover others songs is only rivaled by Bryan Ferry and David Bowie …
Though released in March, Silk Purse did not debut on the Billboard Top 200 LP chart until October 1970, spending 10 weeks on the chart but peaking at a disappointing No. 103.  This came on the heels of the late-summer performance of the single "Long, Long Time" … which in due course proved to be the singer's first charting single as a solo artist. After it was recorded, and despite Ronstadt's obvious affection for the material, Capitol Records executives attempted to dissuade her from picking more songs like "Long, Long Time," which they considered too country … The song eventually reached #25 on the Billboard 100 and earned Linda her first Grammy nomination for Best Contemporary Performance, Female
Notable Tracks – 'Lovesick Blues' 'Long, Long Time' 'I'm Leaving It All Up To You' 'Will You Still Love Me Tomorrow'