Let It Be/Live At Leeds
This weekend, On The Turntable will feature two lps from my two favorite bands of all time … The Beatles delivered their final studio lp, and The Who delivered their first 'live' album, 50 years ago …
Let It Be
Let It Be is the twelfth and final studio album by The Beatles. It was released this very weekend in 1970, almost a month after the group's break-up. Like most of the band's previous releases, the album topped record charts in many countries, including both the US and the UK. However, the critical response was generally unfavorable. Though it produced three number one singles …. Get Back, Let It Be and The Long And Winding Road …. This is the lp which produced the movie, the rooftop concert and is currently in production, with a planned September release, of a documentary from Peter Jackson of Lord Of The Rings fame …. I will be the first in line for that at the theaters …
Let It Be is the only album to occasion negative and hostile reviews … it was also rife with controversy … however, it won the Academy Award for the Best Original Song Score in 1970 for the songs in the film. Best Ever Albums Dot Com considers Let It Be to be the 12th best lp of 1970 and the 57th of the 1970's. Digital Dream Door Dot Com lists the album at 26 on it's Top 100 of 1970. Let It Be was ranked number 86 in Rolling Stone's list of the 500 greatest albums of all time in 2003.
Notable Tracks – "Let It Be" "The Long And Winding Road" "Get Back" "I've Got A Feeling"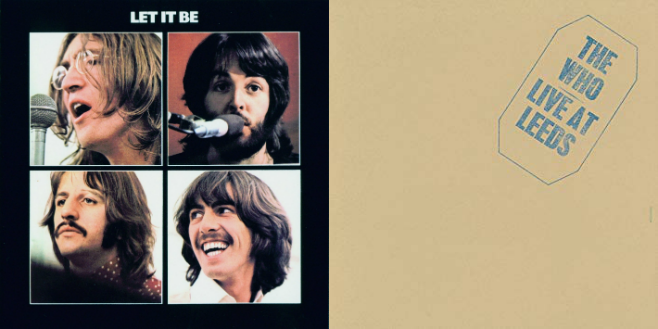 Live At Leeds
Live at Leeds is the first live album by The Who. It was recorded at the University of Leeds Refectory on 14 February 1970, and is their only live album that was released while the group were still actively recording and performing with their original line-up. The album was released in May 1970 … Since its release, Live at Leeds has been cited by several music critics as the best live rock recording of all time … I first saw The Who three years later in Detroit … and, to this day … it was the greatest live show that I have ever seen …
Live At Leeds from The Who is considered, by some, as the greatest live album of all time … and by others as the greatest rock album, period … The show was recorded at Leeds the night prior to a second show that was recorded at Hull City Hall … while doing the research on this show, I found that there was a super deluxe box set with both shows … So, I have just ordered it and should have it soon … many critics, including Pete Townsend and Roger Daltry themselves, feel the Hull show was much better … Best Ever Albums Dot Com considers Live At Leeds as the 23rd best album of 1970 and the 151st of the 1970's … Digital Dream Door Dot Com ranks the lp as 7th in it's Top 100 of 1970 … Live At Leeds is also included in the book 1001 Albums You Must Hear Before You Die.
Notable Tracks – "Summertime Blues" "My Generation" "Magic Bus"