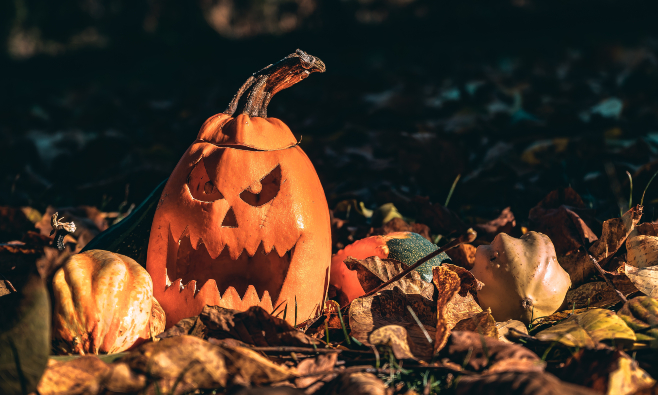 When I was a kid, one of my favorite things to do was decorate the house for Halloween. My parents and I had orange lights, a plastic skeleton or two, and we would carve up a pumpkin. Sometimes we would get those cheap fake spiderwebs, and I would stretch them across anything and EVERYTHING, for extra spooky effect of course. They were always such a hassle to clean up afterwards though. I can remember one year, we kept forgetting about our jack-o-lantern, well after Halloween. One morning we noticed it looked like it had been nibbled on by some sort of animal… and eventually it started to rot and stink. Yuck! After that year, we didn't let it sit out for so long, because no one wants to clean up a sour pumpkin mess! Have you ever experienced any of these Halloween horrors?
Something I never thought about, however, was what happens to animals when they encounter these seasonal decorations. Then again, what kid actually thinks about anything other than the fun part, right? Those same decorations could have actually been causing more problems than an extra mess to clean. They can be harmful to outdoor pets and wild animals. Here are some tips to make sure your decorations are safe for animals.
1.  Don't use fake cobwebs outdoors.  Birds and other animals can get tangled in them and hurt themselves. If they are trapped in them long enough, they could die.  So only use them inside, or not at all.
2.  Check your hanging decorations.  Things like string lights and netting can pose a threat, just like fake cobwebs.  Especially in rural areas, make sure they're hung high enough that animals like deer won't get their antlers caught in them.
3.  Don't let your jack-o-lantern sit outside and rot.  As I mentioned in my story, ours had been nibbled by… something… A rotten pumpkin will attract animals closer to your home than they'd normally get.  If you have an outdoor pet, like a cat or dog, this may increase the chance that they will get in a fight with a wild animal that has been attracted to your home by the smell of rotten fruit.
That third tip is not suggesting you throw out your beautiful carved jack-o-lantern masterpiece immediately or anything. The shelf life, once a pumpkin has been carved, is only a week, maybe less. So you should wait until right before Halloween to carve them.  Then throw them out a few days later. Or if you want to have a decorated pumpkin that lasts, paint it instead. A full, uncarved pumpkin can last months without rotting.